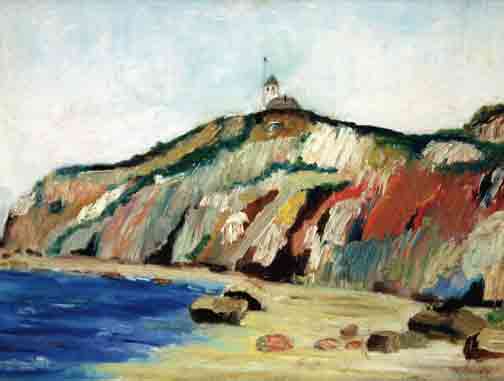 Milton Avery, Untitled (Coastal Scene of Gay Head), oil on board, 12 x 16 in. Private collection.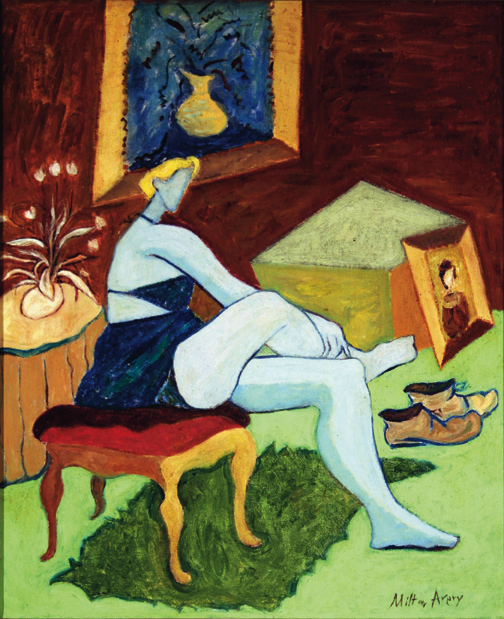 Milton Avery, Untitled (Seated Woman in Blue), n.d., oil on canvas, 24 x 20 in. Private Collection.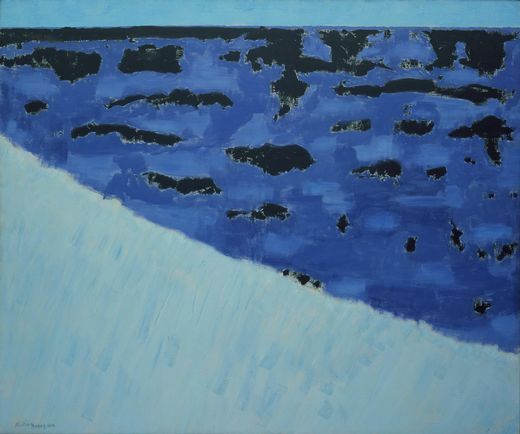 Museum of Modern Art: Milton Avery. (American, 1893-1965). Sea Grasses and Blue Sea. 1958. Oil on canvas, 60 1/8" x 6' 3/8" (152.7 x 183.7 cm). Gift of friends of the artist. © 2007 Milton Avery Trust / Artists Rights Society (ARS), New York
Milton Avery 1885-1965
Publication excerpt: The Museum of Modern Art, MoMA Highlights, New York: The Museum of Modern Art, revised 2004, originally published 1999, p. 227
Avery painted scenes of nature throughout his career, but he preferred simple forms to realistic details, and his palette is distinctively personal. The results come close to abstraction. In Sea Grasses and Blue Sea (based on Avery's memories of Provincetown, Massachusetts), the sky is a straight and narrow blue band at the painting's upper rim. The rest of the canvas is divided into two trapezoids of almost equal size and shape. The lower of these, the sea grass, is pale and lightly streaked, and echoes the tonality of the sky; above it is a wedge of a predominantly darker, saturated blue, with patches both of a lighter blue and, more sharply, of deep black. Magically, the overall effect is of waves flecked with white foam.
That black is paradoxical: as Matisse remarked of the black in one of his own paintings, it is used as "a color of light and not as a color of darkness." In various ways, in fact, Avery is closer to Henri Matisse than to the styles that prevailed in America during his lifetime-in his love of clarified form and flat color, for example, and in the sense of rich serenity that permeates his art.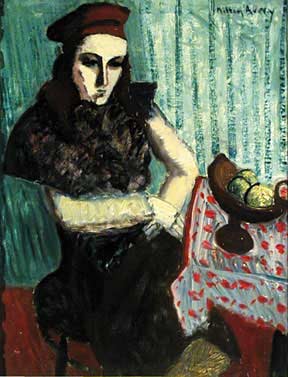 Provincetown Art Association and Museum: Towards the end of his life, Milton Avery summered in Provincetown (1954-60), and produced the large evocative canvases of the sea, sky, and dunes that are the triumph of his career, as well as being some of the most impressive paintings ever made of the Cape.
Our picture is characteristic of his earlier work: the painting of a friend in a domestic, intimate, setting. The quirky foreshortening and the angular shape of the woman are typical; but not the fussy detailing—which would later be subsumed into clear shapes melding into a radiant composition based on color.
.............................

The Collection of the Provincetown Art Association and Museum, March 3-13, 2000, The National Arts Club, New York, NY; Curatorial Notes: Tony Vevers
MILTON AVERY'S LAST PICTURES
I had met the Averys in New York through a mutual friend, the painter Steve Pace.
It was inevitable that I would renew this friendship when Milton and Sally came to Provincetown for the summers of the early 1960's.
That summer I was working stretching canvases for the Studio Shop, which happened to be next door to the Avery's summer rental on Commercial Street across from Kiley Court and Ciro and Sal's restaurant.
Following his usual working routine, Milton spent the first days sketching his new environment, before committing paint to canvas.
When he was ready to begin painting, Sally would come next door and order canvases to the specific size that Milton had decided to work on; he worked, as always in the living room of his abode—he had no hang-up about working in a formal studio setup.
It was soon obvious that Milton Avery was going in an anomalous direction, for he was ordering large 6 foot plus canvases; up until this Provincetown summer, he had usually worked in a fairly small size scale in inches (30" x 40" was typical). Apparently, Avery was responding to the open spaces of the Cape end vistas by making pictures on a (for him) massive scale.
We quickly found out that the new canvases would not fit through the doorways to the Avery apartment, so we hoisted them to the open deck on the bay side of Milton's quarters.
The passage of these monster, sail-like pictures- to-be became a summer spectacle in a town replete with visual oddities.
Unfortunately, Avery was not in sound health at this time toward the end of his life, and he was unable to continue working on such a large scale, but the series that was completed was hailed as a great finale to a great life in art, and I have always felt pride in having had a small part in this episode in the career of such a master artist.
Tony Vevers
October 29, 2004-April 2005
Provincetown, Massachusetts