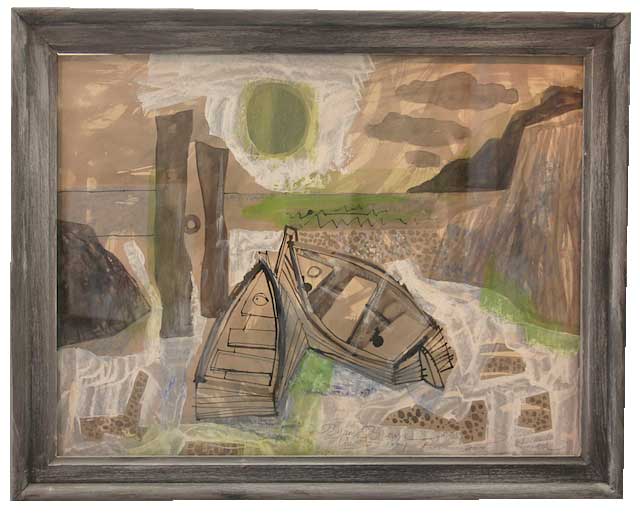 Byron Browne, untitled (Lovers Watching Green Sunset), Aug. 23, 1952, watercolor and ink, private collection
Byron Browne was born in Yonkers, NY. He was prodigy who won a major prize when he graduated from the National Academy of Design (the youngest student to do so). Soon after, he rejected and destroyed much of his academic work, including the prize-winning picture, and then discovered Picasso and Cubism.
About the same time he met Arshile Gorky, probably the leading exponent of Modernism in the New York art world of the 1930s. To be an abstract artist was extremely hard during this period, when the emphasis was on realism in art, and Browne suffered with the rest of his peers, but he did get an important commission through the WPA to do an abstract mural for radio station WNYC in 1938.
He also became a founding member of the AAA and was an increasingly vocal spokesman for abstraction. His work was influenced by the arts of antiquity and by primitive and pre-Colombian sculpture. In these disparate elements Browne found material to celebrate the complexity of life.
One perceives a contradiction in Browne between the necessity for abstraction and the need to express a response to the forms of nature. He spoke of wanting "the human element in painting," a wish fulfilled by the pictures in the Yasuna collection. "Woman with Branches" is an example of this, where the figure is outlined by the leaves and twigs around her, forms which are repeated in the details of her body so that she becomes a symbol of fertility.
"Woman of the Was" is at once an abstract head drawn from a pre-Colombian motif, and an outcry against the horrors of World War II. Late in the 1930s, Browne started coming up to Provincetown, finally buying a house at 604 Commercial Street, next door to Peter Busa. Always a most collegial man, he joined the Art Association and began his practice of painting a portrait of one of his artist friends every summer. Milton Avery, Joe Kaplan, Sabina Teichman and Sol Wilson were among his sitters.
He also took solitary strolls through the dunes playing the bagpipes, and became fascinated by the shore-line detritus of shells and claws; crustaceous forms that found their way into his paintings. His growing position as an important modernist was sadly under minded when his former dealer, Sam Kootz, switched to the new abstract-expressionist cause and dumped Browne's work on the market at half price in 1951, an unfeeling gesture from which Browne never really recovered.
© Provincetown Art Association and Museum, Provincetown Abstract Painting 1915-1950 from the Penny and Elton Yasuna Collection, August 5 - September 5, 1994. Curated by Tony Vevers.