Midge Battelle was born and raised in Worcester, Mass. She graduated from Greenfield community college and received a BFA from the Massachusetts College of Art with a concentration in photography. During the past several years Midge has been an active member of the Provincetown Art Association and Museum. Maintaining strong ties to the Provincetown community, Battelle currently resides in Greenfield, Mass.
-----------
For the past few years I have been making pictures using the mid-19th century Cyanotype photographic process. Exposing with the sun, I employ both natural and found objects as well as traditional negatives as light resists; occasionally other media are added on to the print.
I acknowledge that everything has symbolic potential. A quote by Czech photographer Josef Sudek: I believe that photography loves banal objects. I am sure you know the fairy tales of Anderson: when the children go to bed the objects come to life, toys for example. I like to tell stories about inanimate objects, to relate something mysterious: the seventh side of the dice.

--Midge Battelle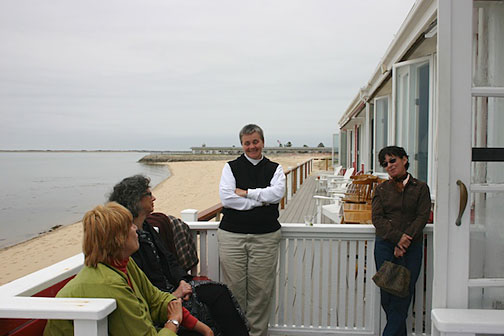 Midge Battelle (in the middle) with Berta Walker (left, sitting), Suzanne Harding and Lisa Ventre (standing, right). Red Inn, Provincetown West End.