Varujan Boghosian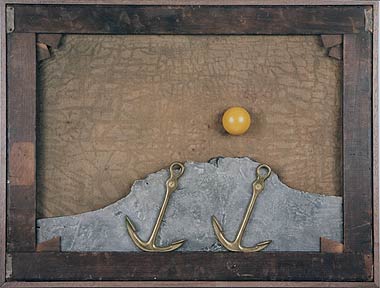 Varujan Boghosian
Collage and Constructions
2007 Exhibition at Berta Walker Gallery
Working with found materials, Varujan Boghosian creates constructions and collages through the use of old and discarded objects and paper. In the resulting elegant, poetic works, we find that the old and ordinary has been endowed with wonder and mystery, wit and pathos. Boghosian uses his carefully culled raw materials to create works of pure and lyric visual poetry, "Haiku in found objects," says Berta Walker. Though in a different medium, they remind one of the still lifes of Morandi or the exquisite quiet aesthetic of Asian vessels.
Boghosian is inspired by a love for the past -- particularly a fascination with classical myths, which he retells through the materials of American life with deceptively simple artistry.
Boghosian is an avid and discerning collector of the old -- ancient paper, wooden boxes, children's toys, books, shoes, bits of furniture -- which he transforms by creating a new context for them, revealing an inner spirit and inventing poetic worlds in which objects speak to each other and to the viewer. "For Boghosian, the creative act is a process of reclamation and re-attribution. Real things are scavenged, stored in the studio, and then sent back, trans-formed, to the world outside. By dislocating and repositioning, Boghosian is able to explore the nature of identity and to create new syntheses and new conditions of meaning from items which have seemingly been drained of the possibility of ever transmitting new values or ideas." (Robert M. Doty, The Hood Museum)
Currently, Boghosian has been looking for old horseshoes, with the nails still in them (see his construction "Lucky U"), and he continues to seek out ancient wallpaper & coloring books. Stating in a recent interview with Brian Goslow of Artscope Magazine, "The artistic element is the teller of time. The disfiguration of the colors can't be done on a new object and the designs are sometimes so outrageous." Goslow continues: "In vast contrast to Joseph Cornell, who packed a lifetime of pieces into a composition, Boghosian uses only a few artifacts. "'It's almost a type of boasting if I can do something with two or three pieces and find an image I'm happy with,'" says Boghosian. "'It's a terrific kind of subtraction that's like a woodcarver who starts with a huge piece of wood and whittles away and whittles away till it's a skeletal sculpture.'"
Boghosian was born in the United States in 1926, the son of an Armenian cobbler. After serving in the Navy in WW II, he entered Vesper George School of Art in Boston, and by 1953 had received a prestigious Fulbright Grant for art to study in Italy. Boghosian studied at the Yale School of Art with Joseph Albers, and was twice artist-in-residence at the American Academy in Rome. He has held teaching positions at Cooper Union, Pratt Institute, Yale and Brown, and for the past 30 years, taught at Dartmouth College.
His art is in the permanent collections of numerous museums including The Museum of Modern Art, Whitney Museum of American Art, Brooklyn Museum, and the Metropolitan Museum of Art. His captivating art was launched in New York by the prestigious gallery Cordier Ekstrom and continues to be shown in galleries and museum throughout the United States.
He has been showing with the Berta Walker Gallery for fifteen years.
This is a special show for Boghosian who is always enthusiastic about exhibiting with his old friends, the painter Paul Resika and the sculptor Dimitri Hadzi, who died last year. "There has always been a lyricism about the three of us together."
Text courtesy Berta Walker Gallery, Provincetown
Represented by Berta Walker Gallery, 208 Bradford Street, Provincetown, MA 02657
tel. 508.487.6411
fax 508.487.8794
www.bertawalkergallery.com