Jennifer Bradley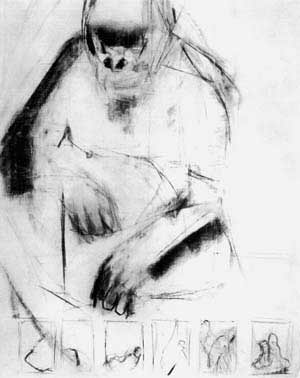 Jennifer Bradley: Gorilla Girl
By Nick Flynn
Jennifer Bradley describes her process as "a dance," at least in respect to her series, The Gorilla Drawings.
She has regularly spent one day a week for the last several years observing and drawing the gorillas at the Franklin Park Zoo--Gigi, Kiki, and Bobby. That they are named, and that the names are known by her, is telling, for part of her project seems to be, or to have becomes, a play on the tension between the artist and the object(ified), between seeming difference and the attempt to make familiar.
If this is a dance, then Bradley is introducing us to our partner: meet Bobby, the long black hand extended toward us.
Bradley also describes her process as "gestural": "I sit at the full length window, where I am directly in front of them. We observe each other--they watch me intently as I draw. Each day is unique. The gorillas do not stay still for long periods of time, unless sleeping. Often I begin one drawing, then the gorilla moves, so I pick up a different drawing and then later return to the first. It becomes a dance in response to their movement."
The 19th century ecstatic naturalist Maurice Maeterlinck put it this way: "deep admiration; which of all things in the world is most helpful to us."
Bradley brings the drawings back to her Provincetown studio and covers her markings with a thin wash of color, like the sky. Her lines are spare yet intuitive, quick yet meditative. A moment is captured and passes. A deep, almost spiritual admiration of her subjects shines through. The gorillas, it is impossible to forget, though never directly stated, are an endangered species, their very existence questioned.
The drawings, in their very spareness, thus become a reflection of this—tenuous, briefly held.
------------------
NICK FLYNN, a former Work Center fellow, is the author of Some Ether (Graywolf Press). This year he was awarded a Guggenheim grant
©2001 Provincetown Arts

Represented by Schoolhouse Center, 494 Commercial Street Provincetown, MA 02657
tel 508 487 4800
fax 508.487 4844
www.schoolhouseprovincetown.com