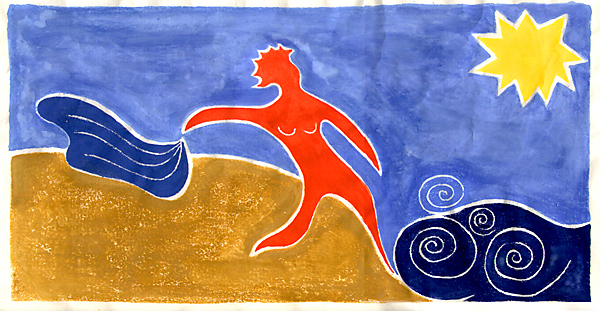 Growing up in Central Maine I was always involved in some type of artistic endeavor working mostly with acrylics and pen and ink throughout high school and college.
After graduating in 1982 from Curry College in Milton, MA with a B.A. in English, I moved to Laguna Beach, CA and began my career as a writer and graphic artist.
I returned to Maine from 1986-1996 where I continued to do graphic design. During that time I studied ceramics at the Portland Pottery School for eight years.
I moved to Boston in 1996 to work as Art Director for a group of parenting publications. While there I also took classes in woodworking and bookmaking. It wasn't until moving to Provincetown four years ago that I finally discovered the art form that most appeals to me.
After 20 years as a graphic artist, I was finding that computers were pushing my design work to be faster and faster, and more about technology than technique. As a result, I was especially drawn to printmaking -- the slow, deliberate process of cutting wood to create a line, then gradually applying paint to board and paper to produce a print -- brought me back to the roots of the creative process.
I also like the connection I feel to Provincetown's past artists through working on a technique that began here.
-- Sally Brophy