Fritz Bultman
(1919-1985)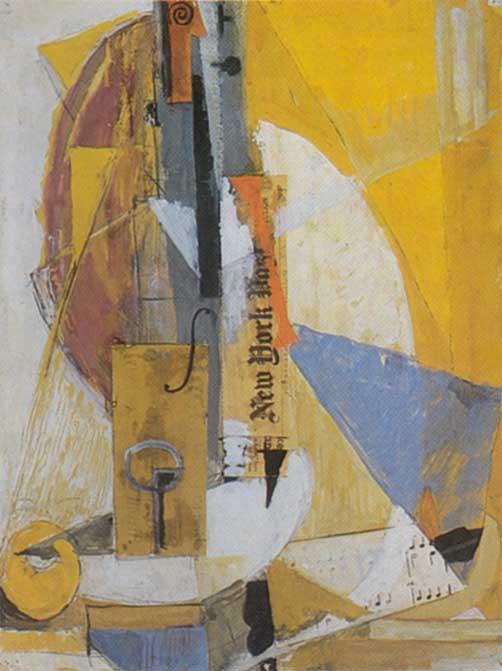 Fritz Bultman, New York Post, 1939, collage on paper, 22 x 17
Fritz Bultman was born into an elegant and cultured Southern family in New Orleans. He was attracted to art as a child and worked with Morris Graves, a family friend, at the age of thirteen. Graves had a vivid personality, and showed Bultman the possibilities implicit in being an artist. Hoping to enroll in the Bauhaus, he went to Germany in 1935 and befriended by Hans Hofmann's wife Miz (the Bauhaus had been closed by Hitler). He stayed with Miz Hofmann while studying and painting in Munich for two years.
On his return to the US, and a brief stay at the New Bauhaus in Chicago, Bultman came east to study with Hofmann in New York, and Provincetown. Among his fellow students were Lee Krasner and Gerome Kamrowski, while Wilfred Zogbaum and Giorgio Cavallon were part of the group around the charismatic teacher.
Bultman became a life-long friend of Hofmann, and was able to establish a bond with Provincetown when he bought property on Miller Hill. While Bultman was becoming established as an important abstract painter, he was also drawn to sculpture. With the aid of a grant from the Italian government he spent a year (1950-51) in Florence, studying bronze casting. From then on, sculpture was to be an important part of Bultman's oeuvre. He was the only one of the abstract expressionist painters to make sculpture on a regular basis. He was able to take the circles and flowing lines of his paintings into the hollows and planes of the sculpture-one perfectly complementing the other.
Matisse, who had sculpted and painted throughout his career found that he could combine the two activities in collage-making, where cutting and painting work together. This also proved true for Bultman, who became a major practitioner in the art of collage. The piece in the Yasuna collection is an early example (one of a few from that time that the artist kept). It has grace-notes from the past, a sound hole, the peg and scroll from the neck of a violin, which are symbols reminiscent of details found in Analytic Cubist paintings. At the same time, there is a breadth of scale and scope that looks ahead to Bultman's magnificent late collages. One can even find a collagist's pun in the use of the title, which becomes the central post, a mast that supports the sail-like forms around it.
Bultman was also innovative in using collages as designs for stained glass panels, which were made with the technical assistance of his wife, Jeanne. A unique example is his great stained glass window at Kalamazoo College, Michigan, 1981. He was an apostle for Provincetown, encouraging people to come up (including this writer) and entertaining his friends with a singular with and elegance. He was also a major figure in the establishment of the Fine Arts Work Center in the late 1960s, and the Long Point Gallery in 1977.
Robert Motherwell said of him "[He] is one of the most splendid, radiant and inspired painters of my generation."
© Provincetown Art Association and Museum, Provincetown Abstract Painting 1915-1950 from the Penny and Elton Yasuna Collection, August 5 - September 5, 1994. Curated by Tony Vevers.
Represented by Albert Merola Gallery, 424 Commercial Street Provincetown, MA 02657 tel:508-487-4424 Website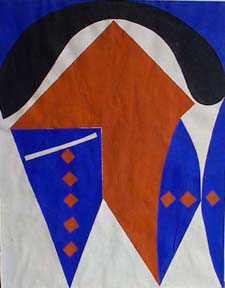 Aurat, 1984, collage of painted papers
Provincetown Art Association and Museum, Oct. 17-Nov. 29, 2009 Jeanne and Fritz Bultman Collection.
The exhibition re-creates a room of their secluded hilltop cottage and includes the works of those artists who both lived on the couple's property and also were friends whom they mentored, befriended or supported, including works by Hans Hofmann, Giorgio Cavallon, Myron Stout and Robert Motherwell, Rob Dutoit, Janice Redman, Pat de Groot, and Cynthia Packard.