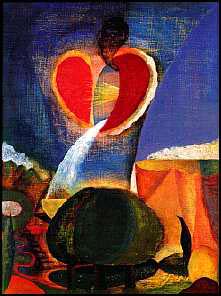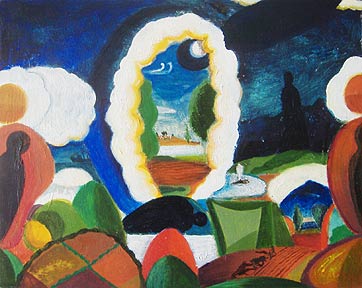 Untitled, 2007, Oil on masonite, 8 x 10"
POLLY BURNELL's intimate color-saturated expressionist landscapes possess the power of Alice's magic keyhole. We are delectably drawn through Burnell's painted portals into subtly surreal landscapes that Burnell has called "little places to escape into," and Donald Beal has commented, "are like peering into a mysterious, intimate dream."
Burnell's imagery is "mined, never invented," she explains. Re-working "the same elements over and over," Burnell has created a vocabulary of vibrant forms and shapes in a particularly American modernist style. Her body of work contributes to the evolution of an indigenous American style, and shows influences of Marsden Hartley and Arthur Dove, in particular. Her paintings are simultaneously mysterious and accessible, simple and complex, re-inventing European Surrealism's tendency toward the menacing (De Chirico), or even, twisted (Dali).
Burnell's work is informed by a tremendous sensitivity to all of nature. "Whether I want to or not, I have these feelings about the spirit in plants and animals, about the landscape being alive." Her re-occurring horse, for example, is "the primary actor/being; nothing is ever just an object," and her shadows "are always like another person." "I start with animal. God knows what happens after that. I never have a fixed narrative. The story informs itself. I complete the form first and then the story fills in... My work is affected by war. It's important to make beautiful things now."
New paintings are a return to an earlier time in her painting life, Burnell explains, describing them as "not as polished, using less subtle colors." Small in scale (8 x 10"), they invoke contemplation and reflection, a deeper look into remembrances of things past, present and future. As Burnell believes, "time isn't linear. It's a giant sphere."
Burnell has lived and worked in Provincetown almost 20 years, receiving a Fellowship at FAWC almost fourteen years ago.
Text courtesy of Berta Walker Gallery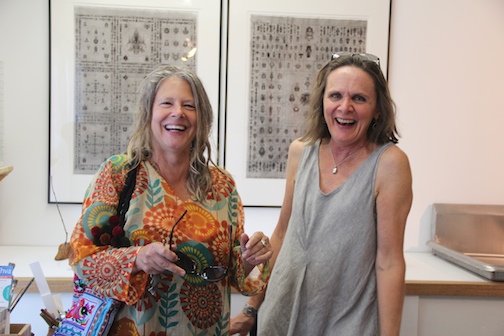 Polly Burnell (left) and Susan Lyman at Gallery Ehva, Provincetown 2013