Mike Carroll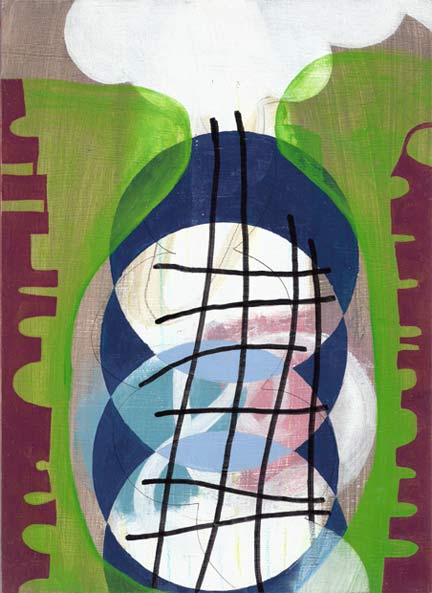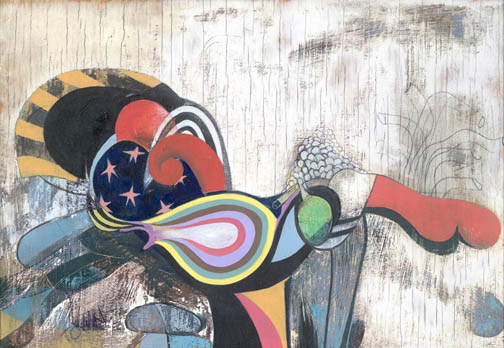 Untitled 2004. Oil and mixed media on panel.
Mike Carroll is an artist who also writes and speaks on art and exhibition spaces. He is also the owner and Director of the Schoolhouse Gallery. Mike was born in New York and raised in Rhode Island. He attended Emerson College and the Museum School in Boston. Later he ran the live performance and Video section at The Boston Film Video Foundation, when video was in its black and white reel to reel infancy. When development displaced the performances held there Carroll opened his first gallery, The 11th Hour near Boston's South Station. There he held early exhibitions by Mark Morrisroe and performances by Human Sexual Response, Jack Smith and The Clam Twins, among others.
Carroll makes oil paintings on panel filled with gentle curves, a muted palette, and tender intersections among the forms. A sensitivity to the hidden forces at play in each work, and his vulnerability to the subtexts and desires exerted on him from each image cast Carroll in the role of a keeper or nurturer of some form of natural phenomena. The images are thoughtful, pale and entertaining - yet in relation to his earlier work both more crowded and more motionful. We are asked to engage in an investigation of illusion which seems to be about teasing space. A love of formal structures is apparent, and the paintings mediate his own inner polarities of passion and diplomacy. Elements rise up and are tamed back into place; balance and proportion don't permit one visual figure to usurp his attention at the expense of another. Our sense of foreground and background is really set aside here. These are soft but not easy paintings.
www.schoolhouseprovincetown.com
Contact:
508.735.2151

Mikecarroll2302@verizon.net

Representation:
Schoolhouse Gallery
494 Commercial St.
Provincetown, MA 02657