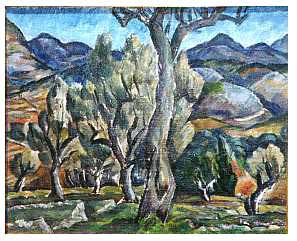 Referred to as "modern before modernism was popular," Chaffee was an artist who dedicated a lifetime to the pursuit of a personal visual vocabulary, one that whould enable him to express himself and his love of light and color as they interact with nature and the objective world.
His diversified education, although rooted in academic tradition and realism, included experimentation with Impressionism, Fauvism, Expressionism, Cubism, and Primitivism.
In a tribute at Chaffee's in 1944, his friend, artist Hutchins Hapgood provides a glimpse of the real Oliver Chaffee: "It is hard to separate Oliver Chaffee the artist from Oliver Chaffee the man. His art bodily lifted from his life, and symbolized in form. It is singularly pure, childlike, and yet naive. There is in it the maturity of loveliness, and that quality was marked in his personal life. Art may be defined as the quality of childhood maintained in mature years. The child is full of wonder, everything arouses his imagination. He is filled with the fresh beauty and meaning of life. But as he grows into a man, he is generally confronted with the problems of practical life, which tend to kill the original simple vision. When the child survives, in spite of all the experiences of man, is when the artist may appear."
By Barbara Blackledge Miller
© Julie Heller Gallery, Provincetown
Julie Heller Gallery, 2 Gosnold Street Provincetown, MA 02657
tel 508 487 2169
fax 508 487 6651
www.juliehellergallery.com