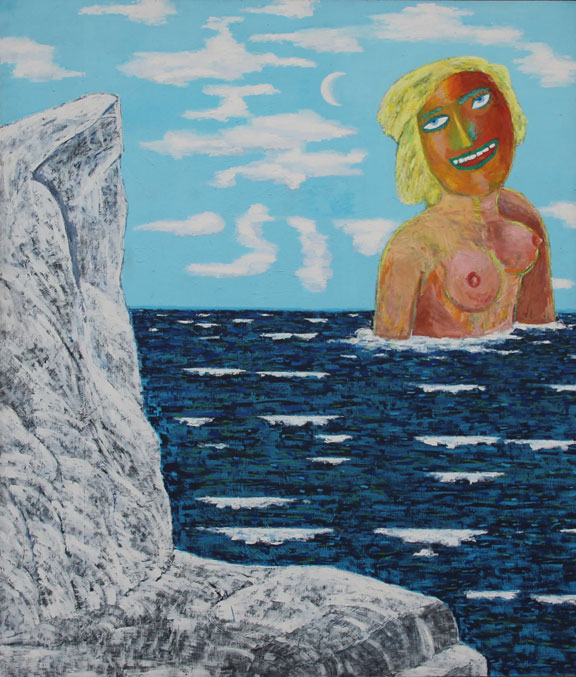 Painting by Carmen Cicero from "Long Point: An Artists' Place" at Provincetown Art Association and Museum, curated by Mary E. Abell, Ph.D. July 13-September 2, 2012
. . . . . . . . .

Carmen Cicero: "That Existential Stare"
by Christopher Busa
Carmen Cicero is a veteran painter who distinguished himself as an Abstract Expression ist in the early '50s, then went on to be one of the leaders of Figurative Expressionism in the late '50s. Cicero's stormy career, surveyed this summer in a retrospective at the Provincetown Art Association and Museum, tells us why an artist can only stay free of the past by forging ahead. Before a devastating studio fire in 1971 destroyed a decade of his first mature work, Cicero had received two Guggenheim Fellowships in painting. The Ford Foundation Purchase Prize had acquired two works. The Guggenheim, the Museum of Modern Art, and the Whitney also acquired his work. (He is currently represented in twenty-five museum collections.) He had had five one-man shows at the Peridot Gallery. He had been in six Whitney Annuals, almost sequentially. He had studied with Robert Motherwell as a graduate student at Hunter and then taught at Sarah Lawrence.
A talented jazz musician, he played the saxophone well enough to play with the best, and did.
Three paintings survive the fire of 1971, including a self-portrait that echoes what he calls "those primordial human instincts," naming them exactly as "sex, race, and violence." The mix of these themes led Cicero to a conscious vision expressed in one haunted painting titled That Existential Stare. Childlike in its graphic directness, it depicts the hour of the wolf, twilight, where color vision gives way to the silver grays of night vision. What is scary is that, though no people are present, the mask of the animal may be the face of the artist.
Shortly after Cicero's disaster, Norman Mailer wrote a famous essay, "Superman Comes to Supermarket," unwittingly illuminating Cicero's pilgrimage from soft humor to hard cartoon. Since then, with hindsight, we know that journalism is to fiction what the cartoon is to art. Cicero, in making a cartoon out of a nightmare, turned the cartoon into art. Cicero was forty-five years old when he returned home, on a winter evening, to the carriage house he was renting in an elegant New Jersey neighborhood. His living quarters were upstairs and his studio was below. Coming up the street, he heard some commotion. He saw police cars with strobe lights flashing. He wondered about a robbery. Then he saw fire engines. Whose house was on fire? Why, it was his house. The timbers were charred and smoldering, the metal beams were melted and twisted. Gone were his musical instruments, his hi-fi, and his hundreds of records. Gone, too, were forty expressionist paintings that he had worked on for years. Gone were the thumbed pages of his 300 art books. Gone, tragically, was the fifteen-by-eight inch drawing in five crayon colors that Mir-- had inscribed to him, affectionately, following their joint inclusion in the "Inaugural Show" of the Guggenheim Museum. Cezanne, Picasso, and Mir-- were in the show; Mir-- told James Johnson Sweeney that he thought Cicero was one of the best artists he'd seen in America.
When he moved into a loft on the Bowery in New York's Lower East Side, Cicero kept telling himself that his pain was an opportunity for complete change. The fire was a mythological event that he tried to minimize in his mind. In a robotic, syllable-at-a-time voice, he told himself that he would buckle down and recover that which he had lost. He rarely talks about the extreme irritation he felt as he became known as one of the followers of Figurative Expressionism, rather than one of its avant garde. Cicero could not prove his provenance. He had no evidence. So he set to work.
Figurative Expression was underway with the support of passionate dealers: Brooke Alexander, Ivan Karp, David McKee, Marisa Del Rey.
Then Berta Walker came on the scene as the director of the Graham Gallery, and her enthusiasm convinced him to join the gallery. (Cicero's painting, Portuguese Princess, shows a hardy bather with a blush on her face; asked if the princess were Berta Walker, Cicero said, "She could be.") When Cicero's father died of cancer, he made a painting of a man dying of cancer. Here he saw that what we call neo-expression is when pop culture becomes part of the expression. This made Pop real.
Cicero's motifs--the moon, the car, the female, the crazed and menaced stranger--become apocalyptic moments telescoped through the perspective of a single person. Whole cities, the distant buildings as diminutive as toys, are the backdrop for the personal angst of Cicero's cast of characters--a grinning skeleton hailing a taxi at sunrise, a German art critic wearing a blue mask instead of a face, a man running scared down an empty city sidewalk, the white moon in relentless pursuit.
The motif most people ask Cicero about is the moon, looming eternally in so many of his paintings. He concedes there is a possible connection between his crescent moons, shaped like the letter C, and his initials. The waning moon becomes his signature (the new moon faces in the opposite direction). The painter Mary Hackett told the poet Michael Burkard that the way to tell the new moon from the old moon was to remember that the old moon forms the letter C, as in "see you later." A less parabolic explanation might be that the moon sets up a tension, acting as a pivotal point of high compositional significance--where it is placed, how it is placed. As Yeats said, things seen by the light of the moon can be brighter than the prosaic light of day.
Cicero told me, "The crescent moon is poetry, visual poetry." Cicero thinks of the creative process as one of searching and destroying. He destroys what he finds. He paints abstract forms until a figurative element emerges that reveals information from his unconscious.
He remembers his teacher Robert Motherwell telling him that his line was suave, fluid, and elegant. It was neither a compliment nor the opposite, but it convinced Cicero that he did not want to be described as suave and elegant. He knew that when one became smooth and "played pretty for the people," as one musician put it, the art would not be heartfelt. Cicero realized that the figure in his paintings--often fleeing, warning, and shouting--was himself.
In his visionary recent works, we see the re-occurring man wearing a fedora and driving a nondescript car from the past, or walking on a segment of road that will only be replaced with another segment, or watching the flight of a single-engine plane with an open cockpit that is empty of a guiding pilot. The painted character, reinventing Cicero's autobiography, goes from frame to frame in the form of a cartoon, a metaphor for the self in transit. If most of the images are at night, they are only enhanced by what limited source of light is shining. The headlights of the antique car, like the limitations of consciousness, probe a dirt path in the woods, vigilant with "that existential stare," even as the narrow way is surrounded by darkness.
© Provincetown Arts 2000

Carmen Cicero
b. 1926, Newark, New Jersey
Carmen Cicero was born on August 14, 1926, in Newark, New Jersey. From 1947 to 1951, Cicero attended the New Jersey State Teachers College (now Kean University), Newark, and in 1953, he briefly pursued graduate work in painting at Hunter College, New York, studying under Hans Hofmann and Robert Motherwell. The two abstract painters and their circle of artists, poets, and musicians were immensely influential for Cicero, whose singular explorations of abstraction coalesced within the overarching New York school of his teachers and friends.
Cicero's early work combined the gestures of Abstract Expressionism with the artist's interest in Surrealist automatism. Many of his paintings were first executed in light brushstrokes, free-associating shapes with geographic locations or literary motifs, such as the mountains of Catalonia (in Near Tibidabo, 1950) or the strange creatures of Franz Kafka (in Odradek, 1959). The artist would work his black-and-white compositions further, adding the sharp lines and erratic forms that distinguished his oeuvre in the 1950s.
In 1957, Cicero had his first solo exhibition at Peridot Gallery, New York, the gallery that exhibited the works of Louise Bourgeois and Philip Guston in solo shows a decade prior; Peridot continued to exhibit Cicero's abstractions through 1969. His work was also shown at such venues as the Museum of Modern Art, New York (1953, 1955, 1957); Newark Museum (1955, 1964, 1966, 1967); Art Institute of Chicago (1957); Fine Arts Pavilion, New York World's Fair (1964); Whitney Annual (later the Whitney Biennial), New York (1955, 1957, 1960, 1961, 1963, 1966); as well as the Guggenheim Museum's 1959 exhibition inaugurating its Frank Lloyd Wright–designed building. In 1957 and again in 1963, he was awarded a John Simon Guggenheim Memorial Foundation Fellowship. From 1959 to 1968, Cicero taught painting at Sarah Lawrence College, Bronxville, New York.
In 1971, the contents of Cicero's Englewood, New Jersey, studio, which included the entire body of work still in the artist's possession, were lost in a fire. From that point forward, his painting took a personal turn, combining figuration, landscape, and wit in compositions with Surrealist overtones. Eschewing pure abstraction, Cicero focused instead on the continued development of what he referred to as "figurative abstraction," a style he experimented with in the 1960s that would become emblematic of his later work's representation of states of mind. From 1970 through 2001, Cicero was a professor of painting at Montclair State University, New Jersey, where he earned an MFA in 1991. In 2007, Cicero received the Krasner Lifetime Achievement Award from the Pollock-Krasner Foundation. He lives and works in New York and Truro, Massachusetts.
Text courtesy http://www.guggenheim.org/new-york/collections/collection-online/artists/
. . . . . . .
[January 13, 2014]
Artist's website: http://www.carmencicero.com/
. . . . . . . . . .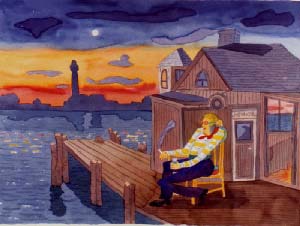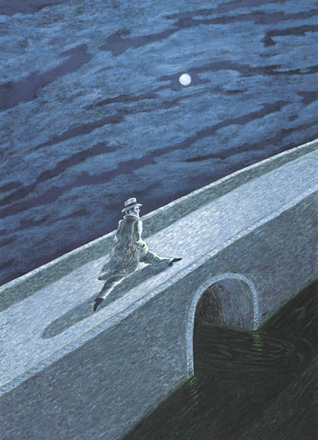 Carmen Cicero, Tracer of Lost Persons, 1995, 84 x 60, acrylic on canvas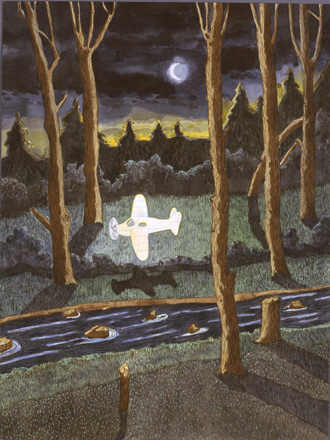 Carmen Cicero, Flying Low, 2005, 18 x 24, gouache