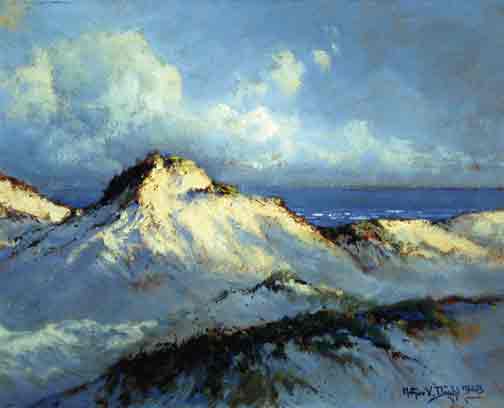 Arthur Vidal Diehl, Untitled (Blooming Dunes at Dusk), 1938, oil on board, 12 x 15. Private collection.
Arthur Vidal Diehl (1870-1939)
"what the brain conceives the hand executes"
Arthur Vidal Diehl was born in London in 1870, the youngest of 6 children. His father was the director of an Opera company and his mother a published novelist. Fabled to have conducted his father's orchestra at 16, by the time he was 19 he had abandoned his education at Oxford University and gone off to roam around Europe stopping briefly to study painting in Milan. He exhibited at the Royal Academy in London before leaving for the US in 1891, where he arrived broke but in possession of a wealth of talents.
He turned to piecework in order to make some money, painting the tops of snuff boxes was one of the jobs he took, but he was also able to pick up work singing, acting, directing and playing music. His first wife died young in 1894 and he was married again by the time he went on tour with the Barrymores. At this time he established his studio in Englewood, then Lakewood, then Asbury Park, New Jersey. Unfortunately his second wife died in 1903.
It was possibly through his theatrical connections that he eventually arrived in Provincetown in 1912 with his third wife. He summered on Cape Cod every year after that until his death in 1929. His first studio was at the Pamet Coast Guard Station in Truro. He later had a studio in the Provincetown Art Shop, where he painted swiftly under the gaze of many onlookers, while he kept up a stream of comment. He is said to have been able to produce up to 25 paintings in a day and he always sold them directly and never to dealers. Diehl was always completely indifferent to price and artistic reputation, and painted voluminously as the only way to assure an income for his family.
He was in Provincetown when World War 1 broke out and he tried to enlist in the British Army in Boston but was deemed to old for service. Instead he wrote a patriotic book of poems called Tommy Rhymes which was written in cockney slang as a salute to his old home and friends. The end came on January 12th at the Truesdale Hospital in Fall River. Arthur Diehl is buried in the Moody lot at Gray Gables cemetary in Bourne.
From the artist archives of The Provincetown Art Association & Museum www.paam.org