Nanno de Groot


(1913-1963)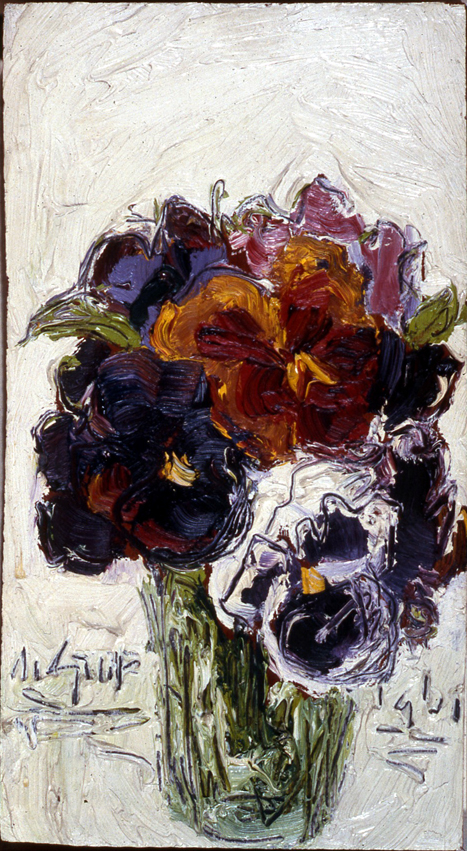 Nanno de Groot (1913-1963), "Pansies", 1961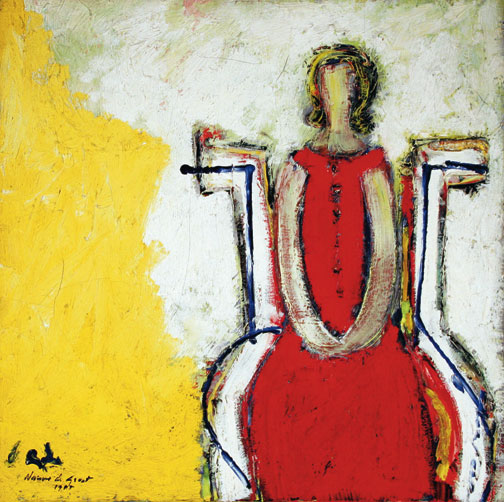 Nanno de Groot (1913-1963), ""Girl in Chair", 1955. Private collection.
Born in Holland in 1913, Nanno de Groot moved to New York in 1948, where he came to identify with abstract expressionists such as Jackson Pollock, Hans Hofmann, Franz Kline and Joan Mitchell. His earlier works included a number of monotypes and the now famous "Linear Figures" series, skeletal characters delineated by evocative streaks of black oil paint. In the following series, "Women in Chairs", de Groot observed that features interfered with the expression of the painting. This sentiment would be reiterated later in regard to his landscapes and flower paintings: "It's strange how abstract a completely true to nature painting becomes." De Groot rented Fritz Bultman's Provincetown studio in 1956, the first of many summers he was to spend there. His wife Pat, also an artist, described the de Groot routine: "We bought Permalba White 60 pounds at a time. He did not use a knife... He did a lot of painting with the tube itself, squeezing long worms of paint onto the board or canvas, laying out the painting as he went along." His later pieces, readily identifiable by their generous attempts to sate our hunger for the paint, attest to de Groot's lifelong commitment to experimentation and exploration. Quoting Van Gogh in his notebooks, he writes, "Let the enthusiasm remain, otherwise we reach the summit of wisdom when nobody has any daring left."
By Denise Bilbao
©Julie Heller Gallery, Provincetown
BIOGRAPHY
Nanno de Groot 1913-1963
Exhibitions:
Saidenberg Gallery, 1952 (solo)
Hansa Gallery, 1953
Bertha Schaefer Gallery, 1954 (solo) & 1955 (solo)
Tanager Gallery, 1954 & 1955
Stable Gallery, 1954 & 1955
HCE Gallery, 1956 (solo), 1960 (solo), 1961(solo), 1962, 1963, 1964 (solo)
Stamford Art Museum, 1960 (solo)
Provincetown Art Association and Museum, 1953-
Parma Gallery, 1961
Everson Museum, 1977
Collections:
Hirshhorn Museum and Sculpture Garden, Smithsonian Institution
Chrysler Museum
Hebrew University, Israel
Provincetown Art Association and Museum
Olson Institute, Guilford, CT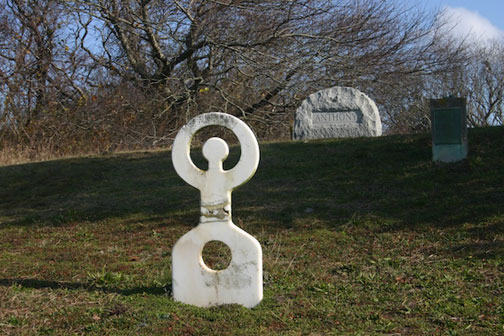 Nanno de Groot grave, Provincetown cemetery. Sculpture by Nanno's wife Pat de Groot.