Pat De Groot (1930- )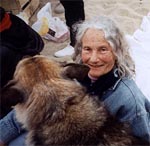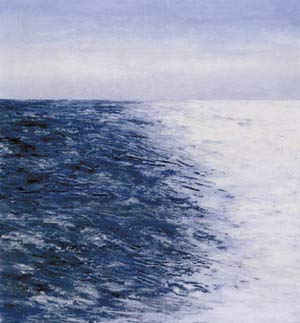 "Dark Sea and Dazzle"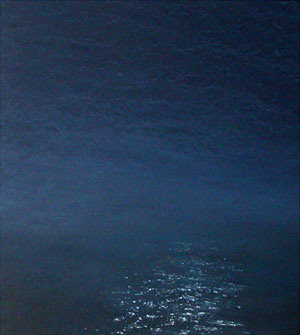 "Moon and Mist"

"... each painting records with exquisite specificity conditions of light, color and weather. The whiteout of a dense, bright fog; the crisp contrasts of a sunny day with cumulous clouds mounded under a clear blue sky; the thickly scumbled whitecaps on a dull green sea beneath a turbulent gray ceiling: in these, one feels the sensual reality of both the world and the paint the way one does with Monet or Pissarro."
-Ken Johnson, The New York Times
"... Although modest in scale and subtle in their optical effects, Ms. de Groot's oil-on-panel paintings exude a concentrated sense of spiritual and aesthetic purpose -- part Zen, part American Transcendentalist, part Modernist formalist. Each picture measures a squarish 12 by 11 inches and most have a hard-edged horizon line near the middle. Contradicting the horizontal expanse of conventional seascape painting, Ms. de Groot's works have a blocky presence that calls to mind Robert Ryman and Agnes Martin. She uses a palette knife to apply paint straight from the tube and this adds to the feeling of Minimalist physicality."
-Ken Johnson, The New York Times, April 21, 2000
Represented by Albert Merola Gallery, 424 Commercial Street Provincetown, MA 02657
tel 508 487 4424
Website
artist phone 508-487-1678