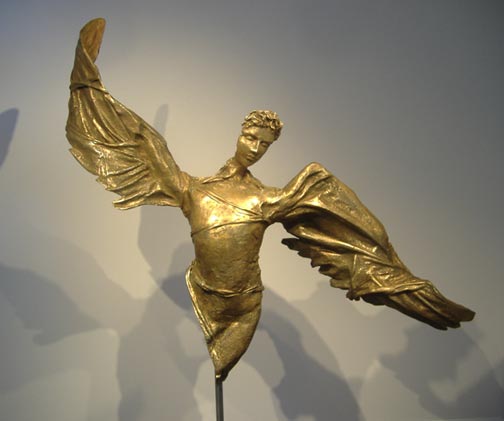 Our bounds are wrapped in clouds
Sometimes in feathers
Some feathers are cords and
All cords can be broken.
-Romolo Del Deo
Angels have been appearing in Western art since as early as 600 A.D., but not in the modern existential sense of Romolo Del Deo's new bronze sculptures, paintings, and drawings. Here we have not the sweet cherubim or fiery messengers offering heavenly options of salvation or doom with entreating arms and standard issue wings, but dramatic "Mangels" as Del Deo refers to them, armless and with genitalia.
Mysterious and anonymous, classically modeled winged male figures (da Vinci's drawings come to mind), they are grappling with a core issue of the human condition: within struggle our existence is defined, even empowered (Del Deo's reference to Michelangelo's "Slaves"). Admittedly, Del Deo likes "working with loaded images." These wings refer to the transformative symbology of the concept of Angel: the potential for self-enacted liberation from "our limitations, anything that ties us down," as Del Deo explains.
A modernist in Renaissance clothing, Del Deo's "Mangels" are reminiscent of the anti-heroes in many modern American novels (Roth comes to mind), and his work continues this tradition, adding to its development in the plastic arts. By utilizing a very Renaissance medium and technique - lost wax process cast bronze - for a very modern message: that the Self embodies our own hell and heaven; Del Deo is a true modernist, albeit with a very classical aesthetic. (It is difficult not to want to make comparisons with Blake's drawings and the text of Dante's "Inferno," or even "the Bard") But, the viewer needs to see this for her/himself.
These are "flawed individuals," not striving for the classical ideal of perfection, but to make meaning out of what Life contains at times, what binds us: chaos, loss, disruption, etc., that "inherent in capture is the possibility for freedom, for escape."
Del Deo's work has always been about transformation. His fragmented and distressed classical figures, beautiful and elegiac in their brokenness are images that examine the bridge between the past and present, between what lasts and what falls away, what is transformed in the processor art making, what begins anew.
This exhibition offers us perhaps Del Deo's most personal show (he describes it as "very autobiographical"), and in the process reveals what has been true in Art in the modern age: what is authentically personal is also truly Universal.
Romolo Del Deo, is a native of Provincetown, son of painter Salvatore Del Deo, and environmentalist, writer, & art historian, Josephine Del Deo.
He took his first sculpture course the summer he was 15 at Castle Hill Center for the Arts in Truro, studying under Joyce Johnson. "As soon as I picked up the clay, I felt like it was what I was meant to do," he says. When he was 18, he traveled to Pietrasanta, Italy where he was able to focus on marble carving and bronze casting as apprentice to Rino Ginannini, Professor of Sculpture at the Academy of Fine Arts, Carrara, Italy.
He received a scholarship to pursue his education at Harvard College where he studied under sculptor Dimitri Hadzi.
His sculpture has won numerous awards and grants; including from the New York Foundation for the Arts, Gottlieb Foundation, Sugarman Foundation, National Sculpture Society, and a national sculpture award, juried by George McNeil in 1986 for the Provincetown Art Association and Museum.
Del Deo is currently working on a monumental commission for the Masterworks Museum of Fine Arts in Bermuda and recently completed a major commission for a sculpture park in Newport News, Virginia. He was also commissioned to create and install the front doors of the Church of the Transfiguration in Orleans, MA.
His work is included in many private and public collections, including Adams House at Harvard College, Newport News Public Art Foundation, The Andalusia Museum, PA., the Municipal Artistic Archives in Carrara, Italy, the Museum of Outdoor Sculpture in Fannano, Italy, La Stamperia in Rome Italy and Smith College Museum of Fine Arts in Northhampton, MA.
Del Deo has exhibited continuously with the Berta Walker Gallery since it opened seventeen years ago.
©2006 Berta Walker Gallery