Martha Malicoat Dunigan
(Born 1934 in Provincetown, died June 20th, 2001)
. . . .
Martha was born on the first day of
spring and died on the last...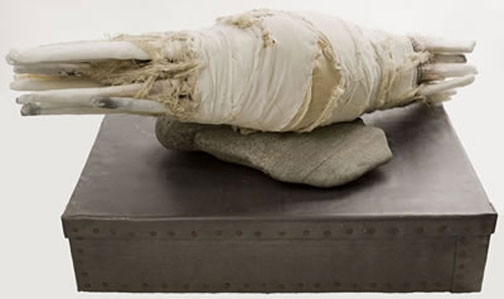 Martha Malicoat Dunigan, Subscribers, 12" x 23" x 13", mixed media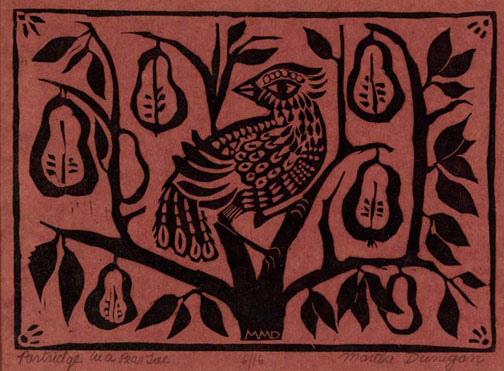 Martha Malicoat Dunigan, Partridge in a Pear Tree, n.d., block print, 7.75 x 10.25" (sight) slr, #6/16 [PAAM's Annual Spring Consignment Auction 2012]

MARTHA MALICOAT DUNIGAN Born in Provincetown, Mass., on March 22, 1934, she grew up in a family of artists, musicians and writers that inspired her own vigorous career as a printmaker, ceram-icist, sculptor and teacher.
Martha received a bachelor's degree in studio art from Oberlin College in 1956. She continued her studies at the Pratt Graphic Art Center in New York City, Atelier 17 in Paris, Penland School of Crafts in Penland and the University of North Carolina at Greensboro, from which she earned a master of fine arts degree in 1974.
A resident of Winston-Salem, Forsyth County, for 35 years, Martha was active in the local arts community as an exhibiting member of the Arts and Crafts Association, Five Winston-Salem Printmakers, Piedmont Craftsmen Inc., Tri-State Sculptors Inc. and Artworks Gallery Inc. In 1974, Martha joined the high-school visual-arts faculty at the N.C. School of the Arts. She retired in June 2000. Her dedication and discipline as artist and teacher provided the example and inspiration that encouraged many of her students to pursue professional art careers.
She also taught sculpture workshops at the Truro Center for the Arts, the Penland School of Crafts and the SUNY-Purchase summer program in Italy.
She was awarded the SECCA-RJR South-eastern Artists fellowship, an emerging-artist grant from the Winston-Salem Arts Council and a Mellon grant from the N.C. School of the Arts. Her work is included in public and private collections, including Wake Forest University, Barclays, Wachovia Bank & Trust and the Graylyn Art Center. Numerous exhibitions of her work have been shown in Massachusetts, North Carolina, Maryland and West Virginia. She was the Sawtooth Center for Visual Arts artist of the year in 1994.
Martha was a versatile artist whose work, in her own words, "... is about structure and spaces, real and imaginary, personal and metaphorical." Martha spent most summers in Truro and in Jonesport, Maine. She was passionate about and fascinated with the natural world, and it gave her great pleasure to encourage her daughters, her grandsons, and others to discover its manifold treasures.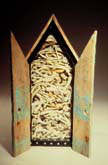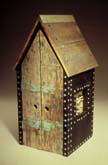 [text courtesy http://www.truroculture.org/artists/dunigan/]
Represented by Berta Walker Gallery, 208 Bradford Street, Provincetown, MA 02657
tel 508 487 6411
fax 508 487 8794
www.bertawalker.com
info@bertawalker.com