Joseph Fanelli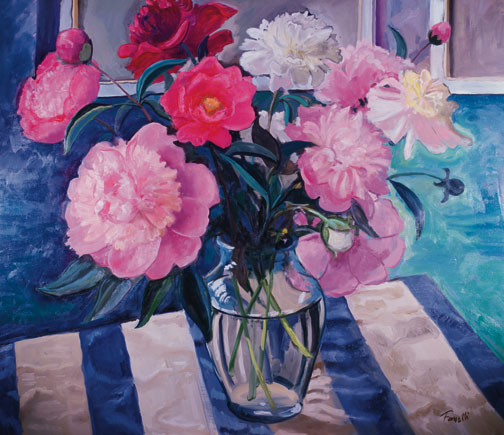 Joseph Fanelli began studying painting and portraiture when he was eleven years old. His first classes were with The Art Students League in New York. His summers were spent studying at The North Truro School of Art on Cape Cod.
Before attending college Mr. Fanelli became a member of The Grand Central Art Gallery in New York from 1973 to 1976. A New York Native, Mr. Fanelli received his Bachelor of Fine Arts in Painting from S.U.N.Y. College at Purchase in 1980.While finishing his degree he worked as an assistant teacher at The North Truro School of Art. Upon graduation, Mr. Fanelli was promoted to Assistant Director and Primary Instructor for the North Truro School of Art on Cape Cod, a position he held until 1987. It was then that he purchased the School of Art, becoming its owner and director.
The figure, portraits and flowers have been Mr. Fanelli's primary inspiration since 1980. His work has been exhibited in Museums and Galleries numerous times over the past twenty years, in both group and solo shows. His exhibitions include: The Art Gallery (New York City), Tennyson Gallery (Provincetown, MA), Gallery Camino Real, (Boca Raton, FL), Stellwagon Gallery (Provincetown, MA), Gallerie Jean Bousquet (Palm Beach, FL), The New Britain Museum of American Art and The Cape Cod Museum of Art.
For information about Joseph's school, please contact:
The North Truro School of Art
24 Pond Road, PO Box 446, North Truro MA 02652
tel. 508 487 2180 • cell 917 209 3434
joefanellinyc@aol.com • www.fanelliart.com