Gilbert Franklin

1919-2004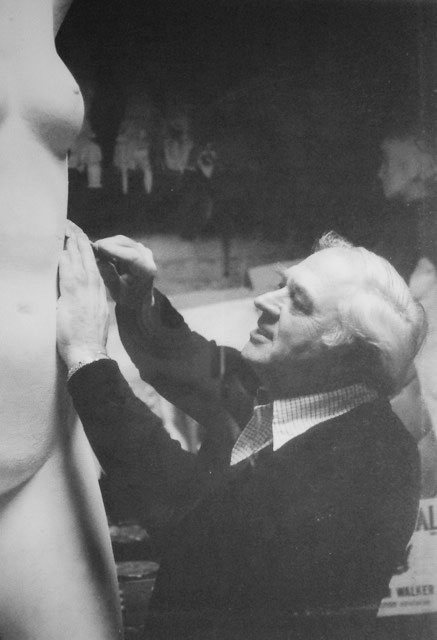 Gil is working on a figure that is in Kansas City called Diana. Photo courtesy Nina Berson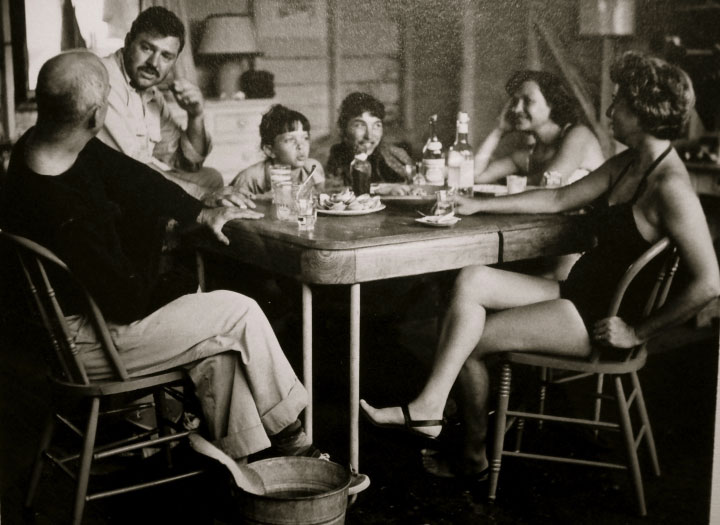 (l-r) The back of Gordon Peers' head, Gil, Gil's daughter Nina Franklin Berson, Joyce Franklin, unnamed wife of photographer and Florence Lief in the Euler studio, 1952 or 53. Photo courtesy Nina Berson
Gilbert Franklin
Franklin came to Provincetown in 1938 to study with John Frazier at the old Hawthorne School. He always said Provincetown wasn't much different than it is today "except for the large condos and inns. Commercial Street had two way-traffic, if you can believe that, and everywhere you went you saw people painting. It's always been a fascinating place. It think it's a place of freedom; people can do what they like, mostly, and other people let them do it."

Gil Franklin was born in England and grew up in Attleboro, MA. His Father was a jeweler and so he was exposed to the tools of working with metals at a very young age. In high school he took an evening course in drawing with an instructor who taught at Rhode Island School of Design and who encouraged him to attend art school. He went to RISD, and continued his studies at the Museo Nacional in Mexico City and the American Academy in Rome.

He has served as Professor of Sculpture, and Chairman and Dean of the Division of Fine Arts at the Rhode Island School of Design, and has taught at Harvard, Yale, and the University of Pennsylvania, among others. His most recent awards and commissions include The Ella Jackson Chair at Castle Hill in Truro in 2003 and a fourteen foot sculpture commission in Memory of Rev. Dom Peter Sidler at the Portsmouth Abbey School, Portsmouth, RI; and a major one-man exhibition at Saint Gaudens National Historic Site, Cornish, NH where he had served as a Trustee for 15 years. He received the Prix de Rome in Sculpture, was a Fellow at the American Academy of Rome, and was named an H.M. Danforth Distinguished Professor of Fine Arts at RISD. He has served as a Trustee of the American Academy in Rome, Augustus Saint Gaudens, and the University of Pennsylvania and as Overseer at Boston University, School of Fine Arts. For the past 15 years, Franklin served as Trustee, co-chairman of the Board and as Chairman and Member of the Visual Arts Committee of the Fine Arts Work Center in Provincetown.
Michael Mazur wrote recently in FAWC's Memorial to Franklin: "His steady leadership helped to steer us away from the dangers of debt toward greater security... Gil was a natural steward, conserver, and conciliator... His work was characterized by a love of form, especially those sensual forms of the human body abstracted to very particular telling curves and volumes.
He created the beautiful medal with which FAWC honors distinguished artists and writers whose careers are models of mentoring and generosity. (In other words, people like Gil.)"

During his long and impressive career, Franklin has received many public commissions for his sculpture including pieces for the Hallmark Collection, Kansas City; the Gannett Building, Arlington, VA; the U.S. Navy Memorial in Washington, DC, the Harry S. Truman Memorial, Independence, MO, and the "Orpheus Ascending" Fountain at the Frazier Memorial in Providence, RI. His outdoor sculpture, "Seaforms", stands at the Wellfleet Public Library.
His sculpture can be found in the permanent collections of important Museums across the Country.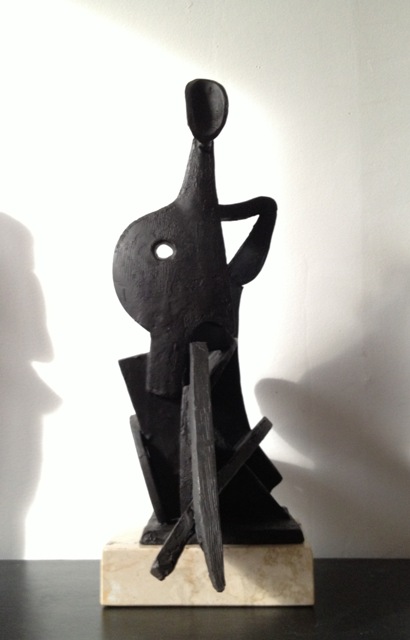 Gilbert Franklin, Enthroned Odalisque, 2000
bronze 13 1/2 x 5 1/2 x 8 1/2
Courtesy ACME Fine Art
Represented by Berta Walker Gallery in Provincetown.