Miriam Fried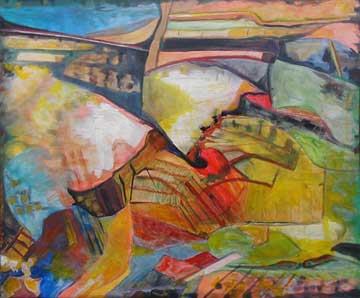 Miriam Fried is a Provincetown, Massachusetts artist who has studied with various teachers, including Helen Van Wyck, Robert Natkin and Stephen Lo Monaco. Her Work is in many collections in New York, New Jersey and in many corporate cllections in the Boston area, including the Boston Stock Exchange.
Miriam, whose work is abstract, explains abstraction for those who may need a definition. "A painting is called abstract when it is impossible to recognize in it the slightest trace of that objective reality which makes up the normal background of our everyday existence. In other words, a painting is abstract when the absence of any other form of sensible reality compels us to regard it purely as painting and as nothing else, and to judge it according to values that have nothing to do with representation or with the imitation or reproduction of some other thing. Then the work has nothing to convey to us except the pure elements of composition and color."
The Renaissance painters painted what they saw. However, she feels that is not enough. Her thought is--one must penetrate a thing in order to be able to paint it. That is what makes for the poetic transformation. What remains is what comes from the spectator and artist together--the relationship between the two--METAMORPHOSIS!
Represented by Lyman-Eyer Gallery, 432 Commercial Street, Provincetown, MA 02657, tel. 508-487-3937, www.lymaneyerart.com