Peter Gee
(July 23, 1932 - Dec. 1, 2005)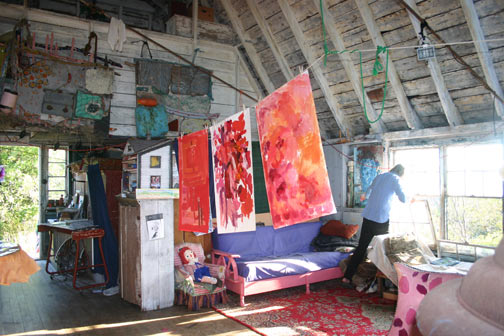 Summer 2005, "Working with Color" workshop in Hawthorne's barn. Peter is opening window (on the right). Photo Ewa Nogiec.
Peter Gee….
A Celebration of Color in his Life
Written by Josephine Dal Deo

Peter Gee, artist, designer and restoration/developer, died on December 1, 2005 at the Brigham and Women's Hospital, Boston, Massachusetts at the age of seventy-three. Born on July 23, 1932 in Leicestershire, England, the son of Harry Archibald Gee, a Midland farmer, he was a precious as a child and showed a great interest in drawing at an early age. At eighteen, he joined the army as a graphic designer and typographer, later attending the Central St. Martin's School of Art in London. While still in London, he studied under Victor Pasmore, Harry Thubron and Sir Herbert Read. During the 1950s, he traveled to Paris, exhibiting in both London and Paris at the Axion Gallery in London and the Denise Rene Gallery, Paris.
Peter Gee arrived in the United States on Thanksgiving Day in 1962 aboard the Queen Elizabeth ll and almost immediately enjoyed a prominent place in the Pop Art Era designing posters and silk screen prints of coloristic intensity and vigor for such clients as the Chase Manhattan Bank, Merril Lynch, Pace Graphics and the Museum of Modern Art. His Posters for the Vera List Poster Foundation, at this time, included the first-of-a-kind poster for the city's Parks Department. In the fashion world, he designed packaging and posters for "Paraphernalia," where he met and became a long-time friend of Betsy Johnson. His posters and prints of this period were exhibited next to those of Andy Warhol and Robert Indiana and others at the "Word and Image" show in the Museum of Modern Art, and his dexterity and the visual impact of his work garnered international attention on the cover of Time Magazine many times.
By 1970, he had established a color workshop/gallery called ApoGee at 504 LaGuardia Place, which featured, in November, 1970, his paintings and graphics. Gee's primary painting influence was Matisse, but his transmutations of Matisse's cut-out series of intense color were distinctly his own coloristic visions of sharp edge and flat areas that he developed into large color panels exhibited for his first one-man show at the Alan Stone Gallery. The silk screen process which Gee concentrated upon, beginning in 1966, enabled him to extend his images so that these continuously evolving shapes became the basis of his art. He was both skilled and exceptionally innovative in the area of applied art, i.e. posters, brochures, etc. tending to reinforce the idea of the original Bauhaus dictum that the whole man-made environment was an object of design. Peter Gee's work was soon in demand in color workshops in New York City at the School of Visual Art, at the Rhode Island School of Design and at the Harvard School of Architecture in Cambridge where he ran summer workshops.
In addition to Gee's career as a graphic artist and design consultant, he was, a the same time, a designer/developer who was active and effective in converting and preserving many of the old loft buildings in the Soho and Tribeca area. Together with other financiers and partners Gee purchased and restored over twenty of the most architecturally interesting buildings in Soho and Tribeca, notable among them, the Mercantile Exchange Building at the corner Hudson and Harrison and the Puck Building at Lafayette and Houston. The Puck Building achieved Historic Landmark status in 1983 and its opening of April of that year was proclaimed as "National Puck Day" by the mayor of New York. The restoration revived the use of the property to the graphic arts and related disciplines and was the first commercial condominium of its kind in the city. Gee's efforts in this major process of architectural and cultural renewal are said to be the transforming element of what was once called "Hell's Hundred Acres." Then Mayor Edward Koch thought such an effort worthy of his personal letter of commendation.
After Peter Gee's work with the Puck Building ended he and his wife Olga Opsahl-Gee moved to Provincetown, Massachusetts and re-opened a once famous summer art school where famous painter Charles Hawthorne had conducted his demonstrations and painting classes for hundreds of students from 1899 to this death in 1930. Following Hawthorne, the Abstract Expressionist Hans Hofmann conducted classes there, both men being teachers of extraordinary influence and both proponents of large, pure color notes as fundamental to form. Peter Gee's lifelong preoccupation was color, and therefore, such an enterprise as preserving this landmark school and continuing its tradition was a perfect match for him.
Peter Gee's work is in the collection of the Museum of Modern Art in Kyoto, Japan; the Victoria and Albert Museum in London; the Design Museum in Zurich, Switzerland; the library of Congress and the Hirshorn Museum, Smithsonian and the National Museum of American Art, Smithsonian, Washington, D.C.. He is survived by his widow Olga Opsahl-Gee, and their two sons Odin and Harry Gee and their half-brother Brandon Gee by a previous marriage. His sister Mavis Finmore still lives in England.
"For me the best art I can do is when I don't know what I'm doing, that is to say, although there is a basic idea running through my mind, it's that magical subconscious state that one finds oneself in from time to time, it's a state when you're not actually in control, as if another force (energy) has taken over an you just carry out the work, like a mechanic. This is something you cannot plan, it happens. I never try to force it. Sometimes It happens after a long frustrated period, or when you get mad. Sometimes it happens and you don't realize it until after the fact! And wonder, who painted that masterpiece! It's as if for a moment you became a child again, there were no boundaries and anything was possible."Peter Gee
-- Josephine Del Deo
Images and text courtesy http://www.petergee.com/obituary.html.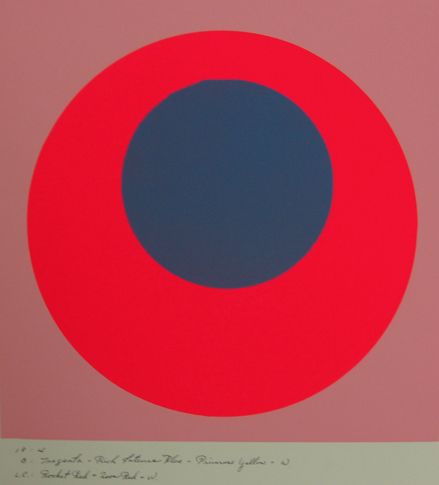 Peter Gee, 1960's Target #12, silkscreen on paper, 12 " x 12"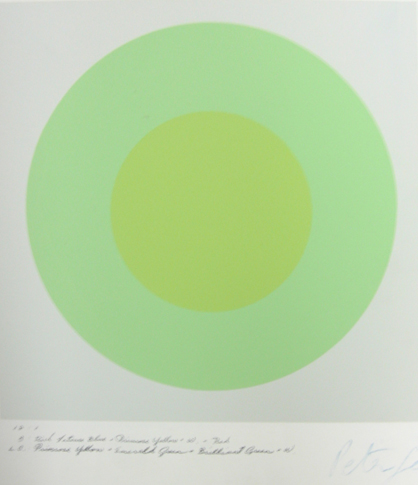 Peter Gee, 1960's Target #10, silkscreen on paper, 12 " x 12"
http://www.petergee.com/