Dorothy Lake Gregory
(Born 1893 in Brooklyn, NY, died 1970)




Dorothy Lake Gregory 1893-1970
Dorothy Lake Gregory was born in Brooklyn, NY and showed artistic talent early in life. As a teenager, she was already doing professional line drawings of children for a local newspaper. At age 17, she and her brother were taken by their father to Europe to be exposed to classic art and music. After her return, she enrolled at the Pratt Institute in New York and studied at the Art Student League with Robert Henri. It was there that she would meet her future husband, Ross Moffett. At the urging of a fellow student, Gregory went to Provincetown in 1914 to study with Charles Hawthorne. It was there that her relationship with Moffett developed; their marriage lasted for almost 51 years.
Her art expressed a tremendous range of styles and mediums. In spite of her success as an illustrator (she did over 20 books and many magazines), she readily sacrificed her own career to care for her family and promote the artwork of her husband.
Gregory exhibited at many prestigious places, including the National Academy of Design, the Museum of Modern Art and the Art Institute of Chicago and won many awards and prizes. Her work can be found in the permanent collections of the Boston Museum of Fine Art and the Library of Congress in Washington, DC.
Text courtesy http://www.bakkerart.com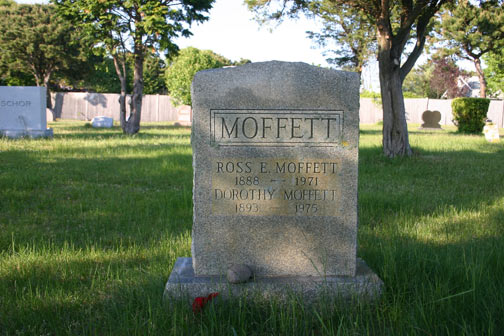 Ross E. Moffett 1888-1971 and Dorothy Moffett 1893-1975 (Dorothy Lake Gregory) grave, Provincetown cemetery. Photograph Ewa Nogiec.