Myrna Harrison
(born 1932 in Hollywood, CA)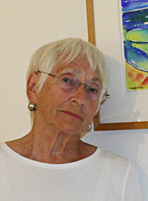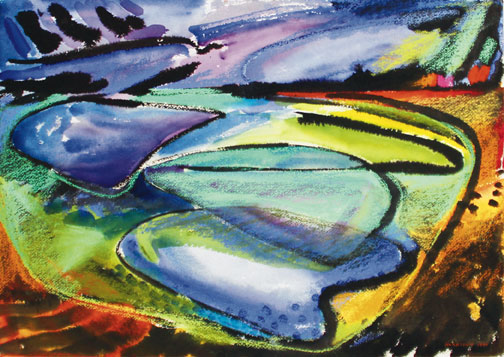 Myrna Harrison, Provincetown Bay - Tide Pools #1, 1994
watercolor, ink, pastel, 14-1/2" x 20"
ARTIST STATEMENT
Oceans and deserts fascinate me. They share spacial openness, an unending skyline, subtle changes in form and color as the sun moves across the sky, and a demand that we adapt to them. They will not adapt to us. Both have an intense,vibrant presence -- which is not surprising: deserts began life as oceans millions of years ago. I want my work to express that vibrant intensity.
My paintings usually grow out of pencil, ink, or charcoal drawings done on site. Some drawings are realistic, some abstract – but in all of them I try to catch the particular quality of that slice of desert or ocean. In my studio the paintings evolve from the on-site drawings, my memory, and the multitude of small drawings I do at night as I think about painting. Often a particular scene, drawing, or memory will absorb me and I will do ten or fifteen paintings of that particular place – each painting investigating a different aspect of the site and my response to it.
My work was influenced early by Cubism and the abstract expressionist painters Hans Hofmann, Willem de Kooning, and Franz Kline, later by the California figurative painters David Park and Richard Diebenkorn, and later still by Japanese prints and Chinese landscape painting. Chinese "splashed ink" paintings of the thirteenth century – the artist splashed ink on wet paper and let the irregular ink forms suggest a landscape that the artist would bring to life through a few brush strokes – has particularly interested me. Most recently I have been influenced by the Chinese aesthetic of the singular importance of the ink brush stroke for creating the basic form, subject and emotion of the painting. -- Myrna Harrison, Wickenburg, AZ, May 2010
. . . . . . . .
Landscape painter Myrna Harrison opens show in Provincetown
By Susan Rand Brown
Provincetown Banner
Posted Sep 16, 2011 @ 02:16 PM

PROVINCETOWN — It makes cosmic sense that painter Myrna Harrison returned to Provincetown for the golden month of September just as Irene was tracking northeast. Harrison, whose art often is inspired by stormy weather, was treated to a wave-crashing welcome. For her opening Friday at Gallery Ehva, Harrison will show ocean- and storm-inspired sumi ink and watercolor Provincetown paintings. Artists Richard Smith and Rob Westerberg share the evening's opening.
A Californian by birth, a New Yorker through high school and as a young painter (punctuated by a year away at the University of New Mexico), Harrison studied painting with icons Hans Hofmann, Jack Tworkov and Morris Davidson in New York and Provincetown when barely out of her teens, and has painted and exhibited in town ever since.
But there is another side to this woman who loves the unpredictability and expanse of the ocean, and who feels so at home in Provincetown that tourists often mistake her for a "townie": she is also a convert to the austere textures and colors of the desert landscape, drawn to the harsh quality of the Arizona's Sonoran Desert, where she spends most of the year.
"I like the politics much better in Massachusetts," she says with a laugh during an extended late August phone conversation, "but I love both landscapes. Landscape is just very important to me. It is so visceral: it's what I most respond to.
"To live in either the ocean or the desert, people must adapt: you just can't stroll into it. During Irene, the spray from Beach Point was crossing the road. I like that fierce, inhospitable quality of the desert and the ocean, and much of that is in my painting."
Her watercolors are characterized by a strong, personal use of line. In Hofmann's classes, Harrison worked in charcoal, often switching at home to India ink and white gouache (a faster-drying, more opaque watercolor). "I suspect charcoal and ink are linked for me, because of line, and black and white," she said.
Much more recently, Harrison traveled Asia's Silk Road; she credits the influence of 13th-century Chinese "splashed ink" paintings, where the artist would splash ink on wet paper and let the irregular ink forms suggest a landscape that the brush stroke would bring to life. It is the ink brush stroke, she feels, that creates the basic form, subject and emotion of the painting.
Her love of inks was also much influenced by her father, a cartoonist in Hollywood and New York, who let a young Harrison into his studios where, as an "inker," she would ink the outside of his drawings onto celluloid.
Then too, Harrison's joy in working expressively with inks connects her to the legacy of abstract expressionist painters who dominated the art world as she was coming of age. Echoes of the animated inking style of Hofmann's landscapes can be seen in Harrison's expressionist Provincetown paintings. In addition to her work at Gallery Ehva, Harrison's atmospheric gray and black "Storm Over Provincetown Bay" is included in "The Expressionist Landscape" at ACME Gallery in Boston, opening Sept. 17, along with work by Hofmann, George McNeil, Tony Vevers, Jack Tworkov, Lillian Orlowsky and William Freed.
The Provincetown Art Association and Museum is playing host for a major retrospective of Harrison's twin aesthetic interests, ocean and desert, Provincetown and the Southwest, opening in spring 2012, coinciding with Harrison's 80th birthday. Selina Trieff and Robert Henry, who met Harrison at the Hofmann School in the 1950s, will curate the earlier paintings, and James Burns, director of the Desert Caballeros Western Museum in Wickenburg, Ariz., will curate the later paintings.
"The kind of response to space in my work is very much Hofmann," she said. "With Hofmann, you thought about the whole picture plane, and everything that is happening in it, rather than focus on tiny details." In keeping with the Hofmann mantra of spaciousness, Harrison has called many different places home, but "the minute I step foot in Provincetown," she says, "I get back to someone who has always been here."
Myrna Harrison's show opens Friday, Sept. 16, with a reception from 6-8 p.m. at Gallery Ehva, 74 Shank Painter Road, Provincetown. From 1-2 p.m. Saturday, Sept. 17, Harrison, together with Richard Smith and Rob Westerberg, will be at Gallery Ehva for an informal discussion of their work.

© 2011 Provincetown Banner