Elspeth Halvorsen
(Born 1929 in Purdys, New York. Works in Provincetown since 1955)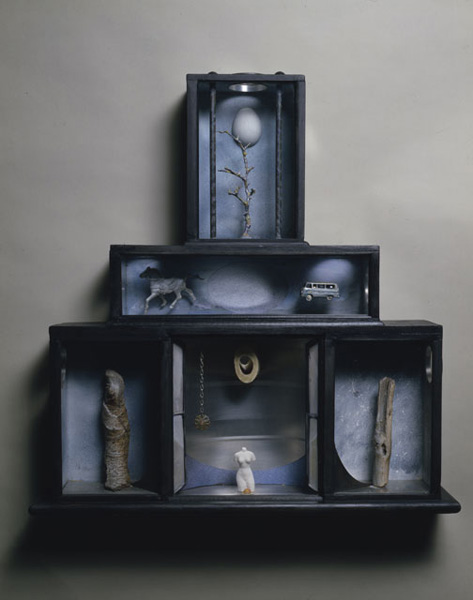 Fairy Tale: Rescue
2003
Mixed media box construction
23 (H) x 23 (W) x 4 1/2 (D) inches
Titled and dated verso: "Fairy Tale Rescue 2003"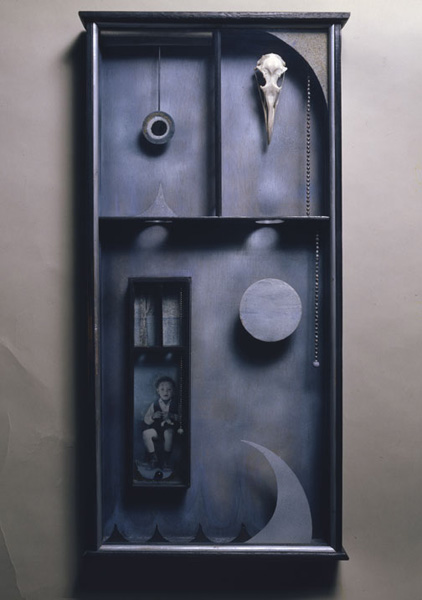 Kaspar Hauser
1997
Box construction
31 (H) x 15 1/4 (W) x 3 (D) inches
Signed, titled and dated lower edge: "Elspeth Halvorsen, KASPAR HAUSER, 1997"
Viewing ELSPETH HALVORSEN's box constructions is a lot like a walk in the moonlight.
What we know – or think—to be true in the hard brightness of daytime reality dissolves into an amorphous space of multiple possibilities/ perspectives in the tradition of Joseph Cornell in which a container becomes the stage for what Boston Globe art critic Cate McQuaid wrote: "Halvorsen constructs boxes from wood and glass; they contain galactic meditations. She balances expansion and containment, liberty and boundaries, filling her work with found objects gathered in surrealist assemblages."
"My work has been about the wars we've been in," referring to her work "Taliban" or "Collateral Damage."
In "Lullaby and Goodnight" (2003 – 2005), Halvorsen juxtaposes the New York Times photograph of a woman in Sherbertoo, Afghanistan, with her grandchild after the Taliban attack of 2001 with the familiar Brahm's Lullaby creating a disquieting musical sculpture about the human consequences of war.
The latest assemblages continue to create the sense of miniaturist surrealistic stage sets – or even temples – wherein her repeating symbols of moon, sphere/egg, mirror/
reflecting surface, ladders and architectural framing, draw our attention psychologically inward. This is her Tarot deck and each work reflects a different cast of her iconographic tools.
Debbie Forman, features editor of the Cape Cod Times, wrote about Halvorsen's work: "Light is always an active element in Halvorsen's constructions. She likes the idea of ambiguity and mystery, and her work inspires a myriad of thought. Through her box constructions, the artist forms a bond with the viewer, sparking an array of associations and ideas, which, like the light, reflect back and forth on her work."
In these new works, Halvorsen has introduced some "objects" that she's had for years (the wooden figure in "Lullaby and Goodnight".) Talking about sources of objects, she says "people give me things, even mail them to me," which she keeps for long periods and utilizes them when they're called for."
Halvorsen, like her Mother and Grandmother before, and their daughters and her own two daughters, has been making art since she was a very young child. She knew at an early age, she would devote her life to being a serious and professional artist. With the exception of the 50's and early 60's when her creative spirit focused on raising her two artist-to-be daughters, Tabitha and Stephanie, she has made art daily.
She was instrumental in organizing the much-heralded artists cooperative RISING TIDE GALLERY.
Raised in Purdy's, N.Y. (50 miles from NYC in Westchester County), Elspeth and her husband, painter Tony Vevers, moved to Provincetown in 1955, living here year-round until 1964; after that they lived in Provincetown for the summers every year until Tony retired in 1988, and then became year-rounders again. At 75, Halvorsen continues to work daily on her art in her studio/home in Provincetown that was once the home of Mark Rothko.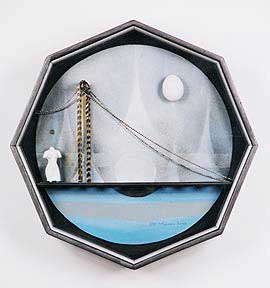 © Berta Walker Gallery

Represented by Berta Walker Gallery, 208 Bradford Street, Provincetown, MA 02657
tel 508 487 6411
fax 508 487 8794
www.bertawalker.com

Hollis Taggart Galleries - Image in the Box: From Cornell to Contemporary, Nov. 20, 2008-January 2009. A fully-illustrated cataloque available for purchase. www.hollistaggart.com