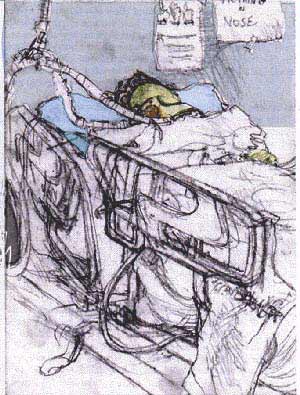 A Robert Henry exhibition is always an exciting adventure in paint and visual impact. He works with symbols that move from the abstract to a pulsating narrative. Both abstract and figurative, they move almost kaleidoscopically from
seemingly pure abstract patterning into grounded, interactive story of the eternal human struggle and primal emotions that comprise the human drama (Succor IV, for example).

Art historian Eileen Kennedy observed: "Henry appears uncategorizable to me. He is an artist statesman of our age, much as Picaso was/is – or Goya- but he does not confront epic conflict between and within nations in the direct way that they did. He presents the human impulse to harm and heal in the emotional atmosphere, the psychic space that human turbulence creates. His more abstract works seem to me to be what so much of contemporary art is trying to express, the distillation of emotion, the spiritual and psychic space that the times we are living in have created. Looking at a few of his abstract paintings, I could not help but think of the 'weight ' of the world that now bears down on all of us who are conscious or attempting to be. Meeting Bob Henry, for me, is like meeting the gentlest of prizefighters. He grapples with the heavyweight philosophical concerns of our times."

Several of these new paintings contain an iconographic horse with rider, the symbol-shape of horse rendered by artists since cave paintings. Of this horse, Henry explains: "In dreams, the horse carries us into the future. This is about the future – this is where we are going." A few of his smaller abstracted paintings ("Untitled" and "The Weight of the World") are about weight, gravity, breath. "Untitled" is like an inhale, starting at the top – it is full of sadness", he
explains, "like life".

"My paintings come from my sub-conscious," he has said on many occasions. "I don't start with meaning. I don't decide on an idea and then illustrate it. The image appears through the process of working, mostly in drawings. An image comes to me and I develop it. The meaning of the image is the image. The paintings have to do with anger, frustration, joy, aloneness, togetherness, power, or lack of power – mine, or others. Berta Walker likes to call me a "Philosophical Expressionist" as I am expressing my feelings about myself, other people, my reactions to life, relationships and events in the world."

Henry's paintings are often serious, and the subjects as varied as all human emotions: sad, angry, hopeful. Couples, aloneness, dancing with spirits, sunning, swimming. Often in isolation. Many would suggest that they reflect Henry, the person, but in fact, as Henry himself has said over the years, he is actually a very happy, easy-going person. But the state of the world, the daily emotions and pressures of life, are not his to ignore.

Over the past four years, as President of the Provincetown Art Association
and Museum, he has learned a bit about politics and finances as he's helped guide the Museum on its journey of renovation and expansion.
Henry and his wife, Selina Trieff, were featured in an article in the Provincetown Banner written in 2001 for which Sue Harrison won the coveted first place award for "her compelling writing style". And recently, a full-length feature video was released about the life and painting careers of Henry & Trieff.

Born in Brooklyn, NY, in 1933, Henry received his BA at Brooklyn College, studying with Ad Reinhardt and Kurt Seligman. In the early 50's, he spent years studying with Hans Hofmann in New York and Provincetown. He was a teacher at Brooklyn College for a number of years, and has lectured widely in America, Japan, and China. His work has been presented in many one-person exhibitions, including Provincetown's original East End gallery and The Group Gallery, as well as numerous museums across the country and internationally.

He has exhibited at Berta Walker Gallery since 1991.
© Berta Walker Gallery
Represented by Berta Walker Gallery, 208 Bradford Street, Provincetown, MA 02657
tel. 508.487.6411
fax 508.487.8794
www.bertawalker.com
info@bertawalker.com