Edna Boies Hopkins
(1872-1937)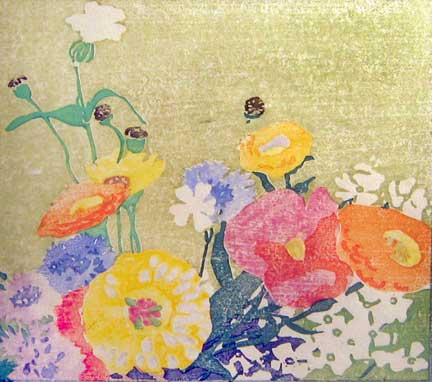 Garden Flowers, about 1915
Color Woodblock Print, Image Size
8 H X 9 W inches (20.3 X 22.8 cm)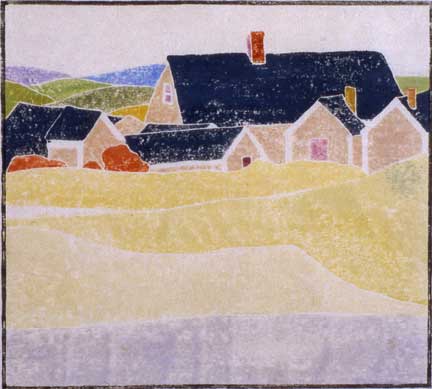 Rooftops, about 1915-16
Color Woodblock Print, Image Size
9 1/16 H X 10 W inches (22.9 X 25.4 cm)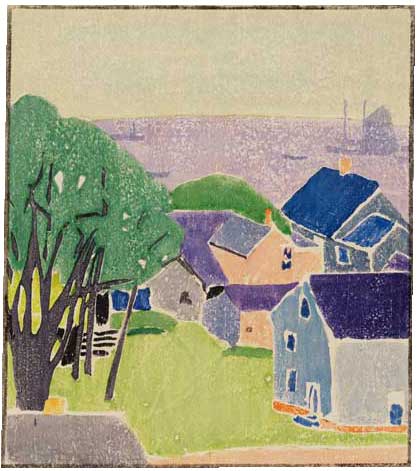 Houses near the Bay, about 1915-1916
Color Woodblock Print, Image Size
9H X 8 W inches (22.8 X 20.1 cm)
Early 20th century color woodblock printmaker, Edna Boies Hopkins, was born in Hudson, Michigan. Educated at the Art Academy of Cincinnati (1895-98), where she met her future husband, James Roy Hopkins (1877-1969), she later studied with the influential painter and collector of Japanese prints, Arthur Wesley Dow at the Pratt Institute in Brooklyn. Following her marriage in 1904, Edna and her husband moved to Paris where she pursued a successful career producing graceful and exquisitely colored Japanese-inspired floral prints limited to 50 hand-pulled impressions. The Hopkinses remained in Paris until the outbreak of World War I in 1914, when they returned to Cincinnati, Ohio.

In 1915, Hopkins followed printmakers Ethel Mars and Maud Squire, who had taken up residence in Provincetown, and began visiting and working there as a woodblock print artist. Although her name is not generally included among the original group of six Provincetown Printmakers, Hopkins was closely associated with these artists and from 1915 onwards she began using the revolutionary "white line" method associated with the group. Some of her most remarkable prints date from 1917 when she and her husband visited the Cumberland Falls region of Kentucky. The subject of this fascinating body of work—local Cumberland residents and their families--predates the American Regionalist movement that would sweep the country in the 1930s. Due to severe arthritis, Hopkins stopped making prints commercially in the early 1920s, although she continued to teach printmaking in Provincetown on a seasonal basis. She died on March 24, 1937 in Detroit, Michigan following surgery for most likely ovarian cancer.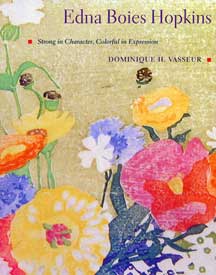 In 2007, a catalogue raisonné and census of her work written by Dominique H. Vasseur, a curator at the Columbus Museum of Art, Ohio, was published by Ohio University Press (Athens). Concurrent to the publication of Vasseur's catalogue, the Columbus Museum of Art organized an exhibition of her prints that in 2008 traveled to the Springfield Museum of Art, Ohio, and the Provincetown Art Association and Museum.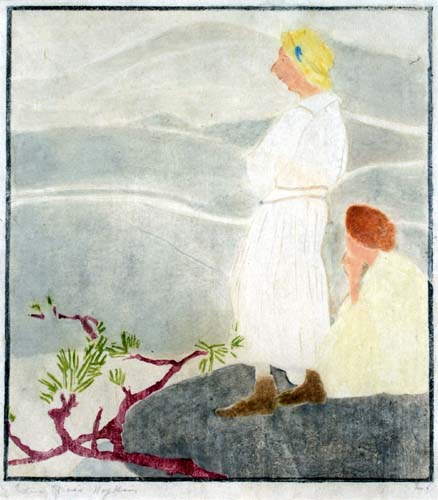 Edna Boies Hopkins, Mountain Women (aka Women in White), 1917, color white-line wood block print, 10 x 9. Provincetown Art Association and Museum 2008 Fall Consignment Auction.