Peter Hunt
Born 1898 New York City, died 1967 Cape Cod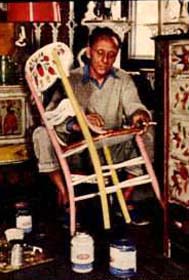 Peter Hunt was a talented folk artist, a self-made celebrity and a relentless entrepreneur who made a name for himself with his peasant decorations from the 1930s through the 1960s.
A friend of the wealthy, the artistic and the odd-ball, Peter Hunt and his Peasant Village was a well-known fixture on Cape Cod, where summer visitors could run into one of his easily recognizable friends, including high-powered executives like James Keating of Chicago, the savvy cosmetics queen Helena Rubenstein, the scandal-stirring opera singer Ganna Walska and, of course, the now-famous Provincetown artists John Whorf, Bruce McKain and Frederick Waugh.

Hunt had a habit of embellishing, not just in furniture decoration, but in stories about his beginnings.
A longstanding Cape Cod legend (that Hunt originated and promoted) held that he first arrived in Provincetown in the early 1920s when the yacht Hunt shared with Scott and Zelda Fitzgerald was forced to take safe harbor in the face of a storm. Wearing a sweeping black cape and a black broad-rimmed hat, holding the leashes of his playful afghan hounds while a red-headed dwarf scurried behind, Hunt said he strolled the streets of the village and declared, "This is a wonderful place. I must stay here."