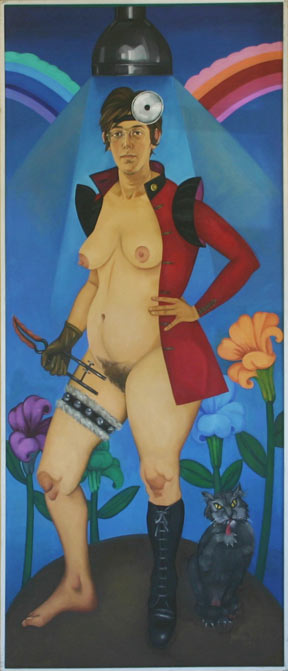 Jane Kogan, Self Portrait, oil on canvas, 84" x 34"
Jane Kogan
"Amazon Paintings"
In 1969, just before the feminist liberation movement began in earnest, I started what turned out to be a series of paintings that my friends dubbed "Amazons."
At first, I was just trying to be able to fill a large canvas successfully, foreground and background both working together. I had been attempting this for more than a decade without success.
In some ways, what's interesting to me now about these paintings is how much of what I did was unconscious, that is, it just seemed right to me at the time, and I didn't think about whether or not it made realistic sense. The first example is the trees in "Interiorized Self Portrait" which have differently colored and shaped leaves mingling on each tree---a naturalistic impossibility. There's also the fact of one shoe on, one shoe off, which someone pointed out to me. This is a theme which goes through several of the later paintings as well. Also in this painting there is the use of something pleasant / beautiful---the flower---being held in one hand, and something unpleasant / violent in the other, in this case a rubber truncheon.
Because I try to make the painting itself beautiful, in color and design, somehow it seemed to me essential not to neglect the darker sides of life we know as well.
In "Prestidigitator," everything can be seen as something else. This is a woman wearing a false nose and moustache, holding a mask of an exaggeratedly girly girl. The heart is attached by a cord to a hand pump. The beauty of the flowers and egg and insect coming out of the magician's hat are offset by the thorns on the bushes. This is the first painting that includes animals, in this case those tricksters, monkeys and chimps. All identity is called into question. And as to the ice skate on one foot, I can now see that this person might be skating on thin ice!
"Fantasy Self Portrait" has the artist in the glamorized role of a woman doctor---at a time when women were only rarely accepted to Med. school. She's wearing a natty sort of riding costume, which is meant to show her as an active woman, but also she wears a fancy fuzzy garter belt of a sort that might be used as a come-on by a prostitute. The cervical dilator she's holding in her hand is offset by the large flowers. And we have the self-satisfied, wicked cat which, like the viewer or the artist, casts an amused eye on events.
"Parsley, Sage, Rosemary and Thyme" has several interrelated strands: a young woman standing in a garden (grass) wearing a peasant blouse can also be seen as the Virgin This is also the meaning of the wilted asparagus in one hand. The earth, which in the earliest ptgs. in the series was just a horizon line dipping at the sides, now becomes almost a hemisphere. The two artifacts in the sky stand for the sun and the moon. She is accompanied by a protective animal, the dog, wearing a studded collar.
"Passion's Knight" is the first of these paintings to incorporate the use of glitter, the sun and moon are again in the sky, the earth is smaller and more of it is seen. She is standing on green patterned waves, a sort of water garden with a pink river flowing out from it. There is no border on the painting, but I had begun to feel the need for some sort of framing enclosure within the picture itself.
And in "Black Woman in Cosmos," done 1 1/2 years later, I have worked out a way to border the painting. Also here we have the start of a triangle coming in from the top of the painting to offset the globular earth on the bottom. She is again standing on water, with water flowing out, a view of woman as nurturing. There is still the one shoe on, one shoe off; and the witnessing wicked cat
"Parable For The Seventies: You Are What You Eat" is of a mermaid holding a fish, in which a large triangle penetrates from the top enclosing a smaller vulval V. The water theme continues, and the earth is now enclosed in a triangle coming from the bottom of the canvas, meeting the top triangle at the pubic area. The trees are now very formal, functioning as two circles that echo the white plates.
"Nut, Sky Goddess" is based on the Egyptian deity whose body arches over the earth. She swallows the sun at evening, and gives birth to it in the morning every day. Once more the triangle comes in from the top, there is the blooming earth with garden and water; and a night sky with stars. The border is silver glitter. From now on the figures are all barefoot.
"Creation: Goddess Dancing the World" was done after my trip to India in 1979, showing a raven-haired goddess backed by a tiger skin, and with a snake and formal tree, and garden with flowers representing the natural world. Here also I have been able to incorporate the early medieval crossing of limbs and extemities, making a kind of twisted knotting that had always intrigued me. At this point the earth is a complete sphere, there is a glitter and paint border, and triangles penetrating from top and bottom.
"Witch" has a garden of fire, with water alongside. Good and bad are represented by the crystal and the black balls, the border has become segmented, and the ravens are the witnessing animals.
With "Yogi" I was finally able to solve all the problems I had set myself throughout the series in the one painting. The foreground and background are totally integrated, and the separate parts--triangles, complete earth, segmented border, interlocking of limbs--all work. In addition to the crossing twisted limbs I have been able to add the seven chakras, and include faux-medieval writing within the border, giving the border a purpose in addition to its function as a frame.
-- Jane Kogan, Provincetown, 2010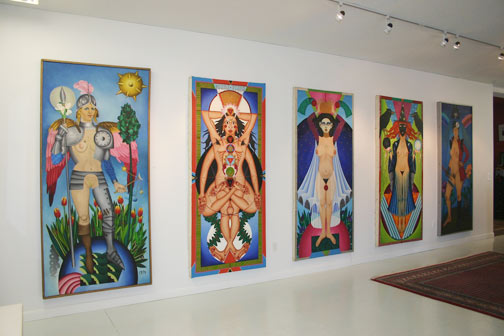 "Amazon" paintings by Jane Kogan at Gallery Ehva, May 2010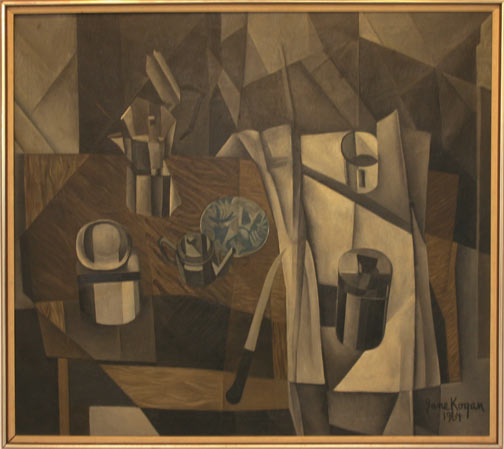 Jane Kogan, Still Life Composition in Gray, oil on canvas, 1964. On view at Gallery Ehva 74 Shank Painter, Provincetown.
Born in New York City, Jane Kogan graduated from the High School of Music and Art in 1956. She received a B.A. from Brandeis University in 1960, graduating Magna Cum Laude, with honors on Fine Arts. In 1960 she also received a fellowship to the Brandeis Summer School in painting and Art History, and a Merit Scholarship to the Art Students' League in New York City. From 1961 to 1962 she was a Fulbright scholar in Rome where she studied etching at the Accademia do Belle Arte. This was followed by a full scholarship to Columbia University where she received an M.F.A. in 1965. Ms. Kogan has been a resident of Provincetown, Massachusetts since 1968 when she was awarded a full fellowship to the Fine Arts Work Center to continue her studies in painting and
etching. In 1969 she won a scholarship to the Provincetown Workshop, studying with Leo Manso.
She was in Major group shows at, among others, Palazzo Venezia, Roma (1962); Brooklyn Museum (1966); the International Miniature Print Show at Pratt Graphic Center (1966 & 1968); Albright-Knox Gallery in Buffalo, NY (1967); "Women Choose Women" at NY Cultural Center,NYC (1972); Schlesinger Library, Radcliffe College (1990).
Since moving to Provincetown she has had one-person shows at the Chrysler Museum (1970), Fine Arts Work Center (1978 & 1982), Ellen Harris Gallery (1985 & 1992), Robyn Watson Gallery (2002) and Gallery Ehva (2010).
Her artworks are in numerous public and private collections, among them the following:
The Art Students' League New York, N.Y.
Hunt Botanical Library, Carnegie Mellon Institute Pittsburgh, PA.
New York City Board of Education New York, N.Y.
Museum of Modern Art Loan Collection New York, N.Y.
Columbia University School of Engineering New York, N.Y.
Boston University Boston, MA.
Provincetown Art Association and Museum Provincetown, MA.