Wry and Pumpernickel: The Antic Photo Shop of Kahn/Selesnick
by Fred Bernstein
Having asked this writer to pose for a photo that would become part of their spring 2000 show at New York's David Beitzel Gallery, Nick Kahn and Richard Selesnick had opposite reactions to my diaper-wearing, crystal-contemplating figure: while one turned his back to me, the other bowed way down, as if in supplication.
Could the photo symbolize the artists' ambivalence toward the press? That would be far too literal a reading. In the world of Kahn/Selesnick, I'm not a writer, and they're not artists; we're all three bogdwellers on a spiritual journey occasioned by a fictional Armageddon. Partners-in-art since they were college classmates, Kahn (obsequious) and Selesnick (indifferent) have created an ersatz universe that manages to be as spiritual as it is slapstick. Before this year, their work focused on the exploits of the Royal Excavation Corps, a nonexistent yet somehow hardy band of early 20th- century explorers. The Corps' adventures were documented in series of sepia-toned panoramic photos bearing longhand captions. The photos are both fake history--made some sixty years after the events in question--and fake panoramas, since the artists created the 360-degree views a sliver at a time, turning the camera on its tripod between shots. In this way, they conjured a cast of dozens using only themselves and an occasional friend as models. So convincing was this work, completed between 1997 and 1999, that the first time I saw it, at Provincetown's East End Gallery, I thought it was a trove discovered at the Wellfleet Flea Market, rather than conceived in the artists' flea market minds.
The Beitzel Gallery show--parts of which debuted at Pepper Gallery in Boston--is titled "Transmissions from the Shottensumofkunftig" (the last word loosely translated by the artists as "Scotlandfuturebog"), and is set not in the past but in an imagined, post-apocalyptic future. The denizens of this world wear conical--and comical--facemasks; they march around in gloomy silence, carrying (for reasons even they don't understand) blocks of lard. The work is lush, printed in rich gray tones and on a kind of cascading silk paper (rather than the self-effacing copier paper on which the earlier series were printed). It's as if Kahn/Selesnick, having lured us into their magical netherworld--where, it turns out, we like being--need less and less subterfuge to keep us there.
Gone are the lines and folds and fountain-pen inscriptions, the photographic equivalents of banging a chain against a credenza to create a fake antique. Gone, too, are the accoutrements of travel. Now the characters' full or partial nudity (they're not exactly dressed for trekking) and low-to-the-ground poses suggest a kind or rootedness; so do the often symmetrical arrangements of people, props, and backgrounds. There is no sense of forward movement, as there was in the film-strip-like panoramas. Instead, the characters can only wonder if they have any future, as the introduction to the exhibition, written by the artists, makes clear: "Each rock they move, each lard block they carry, simultaneously causes and averts the coming catastrophe that is now past."
That is a reasonably good description of a Kahn/Selesnick photo shoot. To play a lard carrier, you have to become one. That's what I learned one August afternoon at Provincetown's Hatch's Harbor. Laden with costume components and heavy camera equipment, we had trudged out to the harbor in time for the low tide (when, photographed from just the right angle, sand dunes would loom like mountains). But the tide was rushing in too quickly. Finding a bit of high ground, Kahn positioned me--a rubber sheet tied around my waist, a shred of an old tent dangling from my shoulder--while Selesnick set up the wooden field camera with its black fabric hood. With Marx Brothers-like timing, they adjusted props and costumes, and eventually themselves, while the self-timer ticked away. High winds and rushing water threatened to topple the camera tripod. The resulting photo is typically whimsical; whether they had the title--Kurbisgerechtigkeit (Gourdjustice)--in mind, or whether it was a future inspiration that had already passed, they didn't tell me.
A few months later, the pair brought their antics to the Phillips Andover Academy, where they were artists-in-residence last fall. To complete the work in the Beitzel Gallery show, they drafted students and a few faculty members for a series of studio shots. In one memorable image, titled Brotmorgendžmmerung (Breaddawn), the models march with standards of bread--rye, white, whole wheat, the gamut. (The artists bought out a whole bakery that morning.) The result is among the most historically resonant of the team's images to date--picture Andrea Mantegna's trumpeters and standard-bearers (admired by Kahn/Selesnick at Hampton Court in England) with bits of Breugel, Delacroix, and Odd Nerdrum thrown in.
In fact, the finished work is composed of two separate images of people, plus a backdrop shot several months earlier in Wellfleet--all seamlessly melded with Photoshop software. To this writer (who was, after all, cast as a dispenser of "gourdjustice" by the artists), the use of Photoshop is worrisome. The fakery in earlier Kahn/Selesnick work was decidedly low-tech, and thus only partly effective, leaving a gap between how the scene would have looked in "real" life, and how it did look after being staged, snapped, printed, spliced together, and antiqued. That gap was the territory in which their artistry came to rest, and the chasm into which viewers found themselves quite happily falling. Photoshop makes it possible to close the gap between what's imagined and what's presented to the public. But seams, not seamlessness, are what Kahn/Selesnick's work has been about. With Photoshop, serendipity is no longer an option; every aesthetic decision is ripe for second-guessing. And so, evocative as the bread photo is, its imperfections read as oversights, rather than as the necessary (and disarming) indicia of process.
It took a lot of tries to get the gourd hanging from my waist where Kahn and Selesnick wanted it. It's possible that next time they won't bother, preferring instead to do the positioning at a computer screen, when the tides aren't rushing and the timer isn't ticking. But is that a step forward or a step back? Does it matter? It may, since to appreciate Kahn/Selesnick is to care about how the work was made. That the making left its mark has always been the artists' great achievement.
----
Fred Bernstein is an architecture and design writer in New York. He is a contributing editor at Metropolitan Home and Blueprint. His work has also appeared in the New York Times, the Washington Post, and the New Yorker.
© Provincetown Arts 2000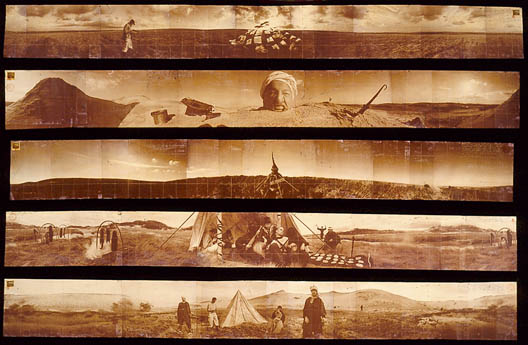 Kahn/Selesnick