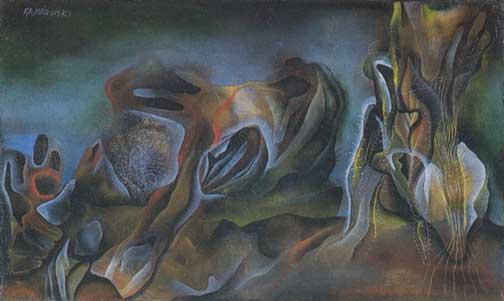 Gerome Kamrowski, Memory of the Wild, 1941-42, oil and fumage on board, 12 x 20
Gerome Kamrowski was born in Minnesota and studied at the St. Paul School of Art. After moving to New York he attended the Art Students League and then enrolled at Hofmann's school. In a recent PAAM catalog note Kamrowski remembered his time there: "It was not the same in the city - the Hofmann School in Provincetown had the intense studio concentration balanced with the sensual pleasures of the Cape." Like Baziotes, Kamrowski had been attracted to certain aspects of Surrealism. He described, in a letter quoted by Wechsler, how Baziotes and Jackson Pollock came to his studio in 1941 and experimented with automatism by dripping paint over a canvas placed on the floor. A year after, the three artists were joined by Robert Motherwell and Peter Busa in a series of studio visits to Reberto Matta for further investigations into surrealist ideas.
These included techniques aimed at giving the artist a vocabulary of effects which were the result of chance. One of these was Fumage: the artist drifted candle smoke over the inverted surface of a canvas creating random patterns that could be used as basis for a composition. This was the technique used by Kamrowski in his "Memory of the Wild." Here, the swirling shapes unfold across the painting against a phosphorescent background; with its eerie and mysterious light, the effect is like the fantastic visions of El Greco. Andre Breton, the so-called "Pope" of Surrealism, wrote that he considered Kamrowski the most impressive of the young American painters for "the quality and sustained character of his research."
Kamrowski has been living in relative isolation from the art world in Ann Arbor, Michigan, where he has been teaching and living since 1946. He has executed a large-scale abstract mosaic mural for the Ann Arbor City Hall, among other places, and is currently planning additional pieces with an undiminished vitality. He is unique in his pursuit of a personal vision tempered by an imaginative use of abstraction.
© Provincetown Art Association and Museum, Provincetown Abstract Painting 1915-1950 from the Penny and Elton Yasuna Collection, August 5 - September 5, 1994. Curated by Tony Vevers.