Christian Kozaki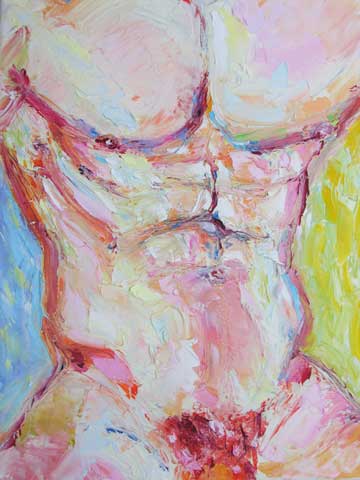 Art is the interaction between the human spirit or soul and the outside or physical world. While painting, I see or more so intuit feelings, perceptions, moods, and colors in nature and the human form.
The personal relationship I share with art is in capturing the "essence" of my subjects whether it is a nature or figurative study. For example, while painting a nude or landscape, I intuit colors and portray them in a matrix which might not seem typical to the casual observer's point of view, yet holds a truth for me in as far as a feeling, inner and outer spirit, and aura. Skin tones may be represented by shades of blue, green, violet, red, orange, yellow, hot pink and lime.
This world is deeply rooted in my own feelings at the moment of creation and there is a precise and tangible energy which emanates onto the canvas from the subject in all its levels of consciousness.
I am deeply moved and in a highly sensitized state while painting, constantly searching for something, inside, outside and beyond the object.
The surface becomes only a plane which exists around the soul and by transcending the surface, I seek to search beyond its casually visible nature and to discover a reality and intuitive sense which may not be superficially evident. There lies a unique truth and joy in capturing a feeling, a spirit, an aura, and essence permeating and surrounding the subject and its other worldliness.
Color is not just to be seen but felt, intuited, emoted, and touched with all the senses including those not perceived on the visible level.
When doing monotypes the technique is such that I never know exactly what will result due to the many variables inherent in this medium. The layering of color and paint, the size and strength of its application onto the Plexiglas plate (canvas), and the pressure of the press as it transfers the image from the Plexiglas onto the wet paper are all effective in producing exciting outcomes. After pulling the image off the plate, I am always fascinated by what has been created.
A simplification is inherent as the tools used are brayers (small rollers) as opposed to brushes and the painting is transferred from one surface to another as opposed to directly painting onto a canvas. In block printing, (a technique I find to be quite meditative), the results are more precise and exacting technically, as the process consists of first carving the block, painting it section by section, then transferring this painted wood to rice paper which is affixed (registered) onto the block.
As in monotype, no two prints are the same, so the technique is quite individual and similar in that the final image goes thru a two stage process (again different from directly painting onto a canvas surface). Sensuality, sexuality, refinement of line, and simplification of form are all apparent and very important aspects of my work whether it is in painting, printmaking, or drawing. I enjoy the interplay of energy between sensuality, softness, and power. I feel this dichotomy to be harmonious and complimentary.
As an artist, I continue to seek out a unique truth, to discover and portray the world thru my personal vision using intuition on a subconscious level while working in the "real world" (if there is such a thing ). What is real and what is not? Are there many levels in which to see? Do we see with just our eyes or our feelings? Dreams, feelings, instincts, and intuitive thoughts allow one to let go and feel rather than think. My art is about feeling, intuition, love, emotion, expression, and creation on a very personal level as a continuous evolution of growth and exploration. Peaceful, energetic yet calm, bold, refined, and beautiful. Each fraction of a second is unique and each moment in time holds its own sense of beauty and awe. The subtle nuances and sometimes imperceptible changes emulate the uniqueness and preciousness of every moment of our lives.
Monotypes are original one of a kind paintings made with highly pigmented oil based paints. The painting is first dine entirely on a Plexiglas board which is then transferred thru a hand manipulated press onto special water moistened paper. The result is a unique one of a kind painting. Monotypes are not reproductions, copies or giclee prints.
Represented by Lyman-Eyer Gallery, 432 Commercial Street, Provincetown, MA 02657, tel. 508-487-3937, www.lymaneyerart.com