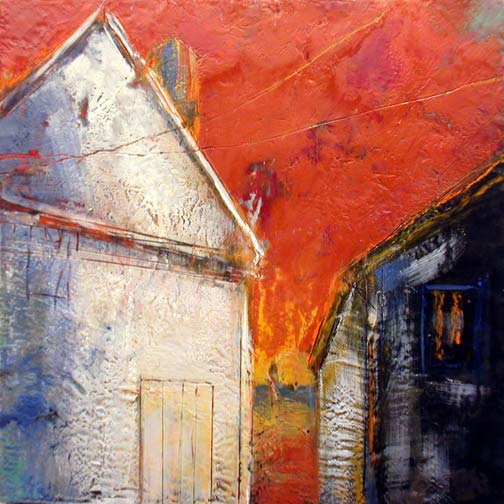 Ignition
encaustic wax and oil stick on birch panel, 24" x 24" $2400
Over the last twenty years I have worked professionally as a graphic designer, creating and communicating messages with both type and imagery. I began to pursue my interest in painting eight years ago as an antidote to working in front of a computer screen, a mouse and keyboard being my main tools of artistic expression and the only evidence of my work being ephemeral pixels on a screen. I enjoy the physical and direct nature of painting, the end product something real, tangible and lasting.

My recent work is an exploration of painting with encaustic wax, one of the oldest forms of painting. The technique allows me to build and remove textured layers of color, transparency, and metallic foils and pigments. My hope is that these layers create not only intriguing and beautiful surfaces, but also give emotional life to the subjects, whether figures or structures, and hint at the mystery inside.

Education

Bachelor of Fine Arts in Graphic Design University of Illinois at Urbana-Champaign Graduated with Honors in 1985

Studied painting at the Provincetown International Art Institute with Jim Peters.

Workshopped with Robert Henry, Bert Yarborough, Tom Knechtel and Richard Baker at the Fine Arts Work Center, Provincetown MA.

Artist studio 508-246-0636