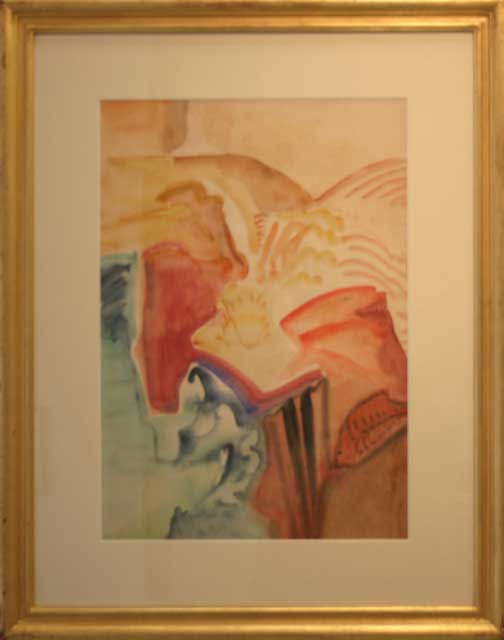 Dorothy Loeb, Fantasy, watercolor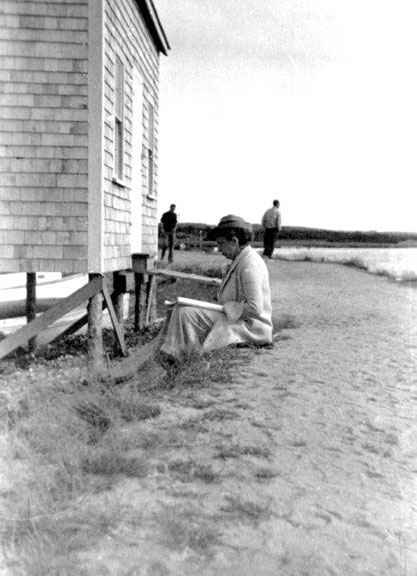 Dorothy Loeb working on the shore
Dorothy Loeb was born in 1887. Her initial art studies took place at the Art Institute of Chicago where she exhibited in 1915-17 and again in 1929. Ross Moffett had also attended classes at the Art Institute in 1911 until 1913. During this period a group of paintings from the 1913 Armory Show traveled to Chicago. It is probable that this is where she first became influenced by Henry Matisse's work. It is also possible that she followed Ross Moffett and his roommate, Henry Sutter to attend the painting school founded in 1899 by Charles Hawthorne that had drawn Blanche Lazzell to Provincetown. A friendship and exchange of artistic information developed between these two artists. Dorothy may have first met Blanche in Paris where Loeb studied with Louis Marcoussis and Lazzell with Charles Guerin and David Rosen or possibly in 1923-24 when they studied with Leger.
It would seem impossible in such a small community as Provincetown that Dorothy Loeb and Ross Moffett were not aware of each other's monotype production. A comparison of their output, particularly in the late twenties supports this conjecture. An untitled monotype presumably depicting Adam and Eve by Moffett in the collection of the National Museum of Art relates closely to those of Loeb, which have spiritual, if not religious overtones. Loeb's monotypes have a certain lyrical quality that almost borders on the mystical side. These allegorical prints abound with creativity, fantasy and a fertile imagination. Perhaps the monotypes were inspired by the Tahitian paintings and prints of Paul Gauguin. It also seems that Loeb followed Ross Moffett's interest in monotype rather than pursuing Blanche's penchant for the white-line print. Although Lazzell experimented with monotype, she produced relatively few in comparison to Loeb's prolific output.
Loeb's first exhibited at the Provincetown Art Association in 1923. 1926 would bring Loeb and Lazzell together for a common artistic cause. A petition signed by thirty members of the Provincetown Art Association demanded an additional show for "the Moderns" of equal duration at the annual summer members' show. This venue was voted in at the annual meeting. Dorothy and Blanche would serve together on the committee in charge of the "First Modernistic exhibition" held in July of 1927 and served with Agnes Weinrich, Lucy L'Engle, Ellen Ravenscroft and seven other male artists to form the jury and hanging committee.
In 1927, Dorothy Loeb was included as a "star" by Nancy W. Paine Smith in her Book About the Artists. Loeb exhibited in the Worcester Art Museum of Art in the 1938 exhibition "American Painting Today" and "Contemporary New England Painters" at the Institute of Modern Art of Boston in 1939 Loeb was also featured with Blanche Lazzell in a two person Works Project Administration Exhibition held at the Federal Art Gallery in the Spring of 1939 in Boston. Dorothy Loeb continued to paint throughout her career until her death in 1971.
--James R. Bakker