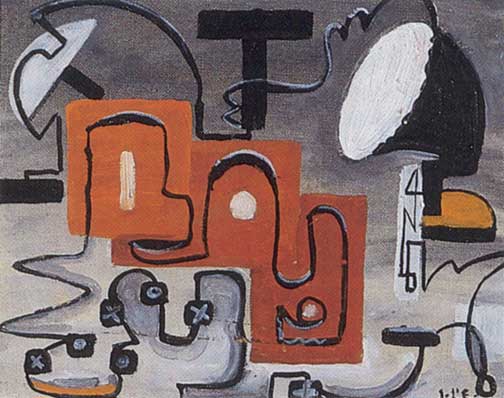 Lucy L'Engle, Signals, oil on canvas board, 8x10
Lucy L'Engle was born in New York City to a family of means. She attended the Art Students League and studied with Hawthorne in Provincetown. By 1914 she was in Paris studying with Albert Gleizes, who later became a friend as well as a teacher. The same year she married William L'Engle, a fellow art student. Three years later they were in Provincetown, beginning what was to be a life-long relationship with the Cape End.
After the war, they spent a year with the writer Hutchins Hopgood and his wife in the South of France before Lucy went back for further study with Glaizes in 1923. She recalled that she "continued for a long time with this medium [Cubism]. I felt I could 'express myself' which seemed exciting and important to me."
From her beginnings in Cubism, L'Engle went through an extraordinary range of stylistic variety. She obviously felt no need for consistency in either her abstractions or in the realist modes she also used from time to time. One could regard this as a lack of commitment, but it may indicate something else - that some women artists of her time did not feel constrained to a level of consistency that was characteristic of the work of their male peers. Could it be that in a time of political and social emancipation, these women saw the freedom implicit in an art that was based on concepts, rather than the necessities of realism? L'Engle's sense that she could express what "seemed exciting and important" to her is a key phrase here. Her mother had been the first US woman's golf champion of the PGA, and she herself was certainly a strong-minded and occasionally willful woman, as Edmund Wilson's references to her in his memoirs of the period attest.
Today, of course, women seems to work with as much consistency as men (or as little, in these postmodern times). In her eightieth year, Lucy published a small book of her recent work, a celebration of her enthusiastic responses to archaic Greek and Persian sculpture, which she had see on a recent visit to the Athens Museum.
© Provincetown Art Association and Museum, Provincetown Abstract Painting 1915-1950 from the Penny and Elton Yasuna Collection, August 5 - September 5, 1994. Curated by Tony Vevers.