Miriam Laufer
(1918-1980)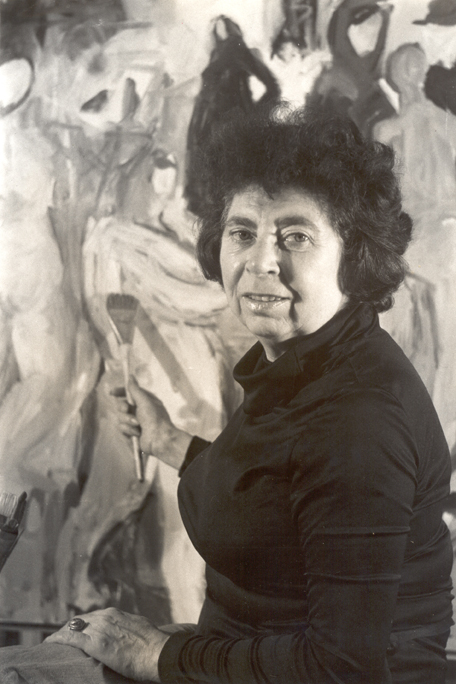 Miriam Laufer in her studio circa 1979. Photo by Sonja Bullaty.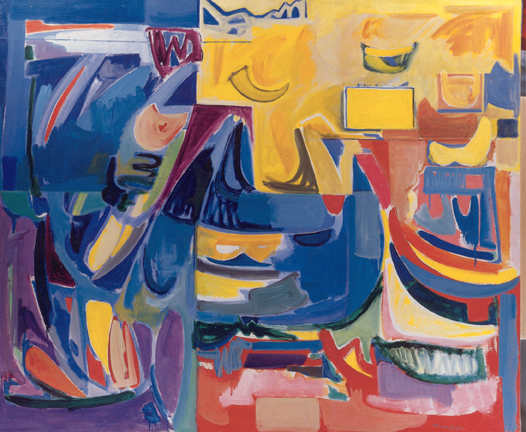 Miriam Laufer, Counterpoint, 1975, 58 x 70"
Miriam Ickowitz Laufer was born in 1918 in Poland and grew up in Berlin (Germany). Her father abandoned the family when she was very young. Her mother placed her and her brother, Leo, at Ahava, a progressive Jewish orphanage in Berlin. At Ahava, she designed stage sets for their theater productions and worked in the art studio. In 1934, when Laufer was 16, the Jewish children's home had to leave Germany. The group emigrated to Palestine, settling outside Haifa. From 1936-37, Laufer studied graphics with Hermann Struck and painting with Zvi Mairovich.
In 1938, Laufer entered Bezalel Art School in Jerusalem on a scholarship. She studied graphics with Joseph Budko and painting with Mordechai Ardon, who had studied at the Bauhaus. She began to receive recognition for her work. In 1941, she graduated from Bezalel and married Sigmund Laufer, a fellow artist and designer. She worked as a designer in Tel Aviv from 1942-47. Laufer became the only woman working for the British Army in Palestine, lettering signs in Greek, Urdu, Polish, Hebrew, Arabic, English, and French.
Miriam and Sigmund Laufer emigrated to America in 1947, settling in New York City, where they continued to pursue their art. She had two daughters, Susan and Abigail. Laufer worked as a calligrapher, illustrator, and graphic designer, also teaching these skills.
Laufer had seven solo shows of her paintings, prints, and drawings; most were at the Phoenix Gallery in New York. Her first solo show there was in 1962 on Tenth Street. She exhibited with them over a period of twenty years, and was also included in many group shows starting in 1951. She also exhibited in Provincetown, Mass. Her artwork received critical recognition during her lifetime (see bibliography). During the early 1960s, she taught painting and drawing at New York University. In the late 1960s, she became involved with the women's movement and was an early supporter of the feminist art movement. At age 52, she returned to school at Brooklyn College and received a B.A., magna cum laude, in 1973. She died in 1980.
The 2006 A.I.R. Gallery show is the first solo show of Miriam Laufer's work since a retrospective exhibition was held at the Phoenix Gallery in 1981. A catalog of her work was published as part of that show.
Text & photograph courtesty http://www.writing.upenn.edu/epc/meaning/Laufer/bio.html