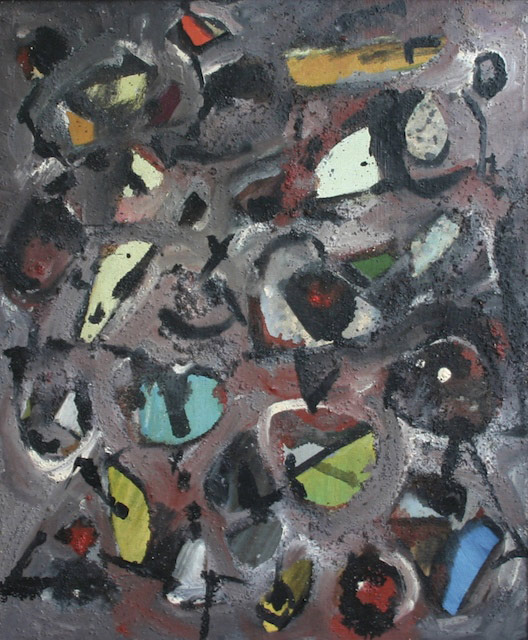 William H. Littlefield & Ed Widmayer, May 4, 1951 and January 1952. A collaboration. A Fiction of Calculated Answers - Of such is said he is one who cares not what fictions her introduces into nature provided his calculations answer, (an artist is always calculating without knowing that he is - Picasso) / Chintamani - A mythological jeni with powers to grant desires. Oil on canvasboard, 24 x 20. Private collection.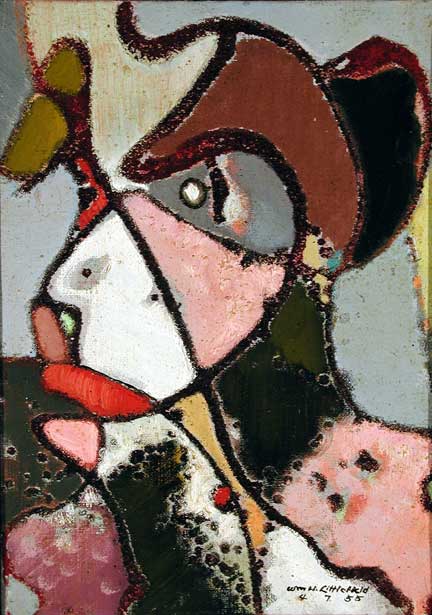 William Littlefield, "One Possessed", mix media on canvas, April 7, 1955. Private collection.
The following is from Arthur Hughes, and is a Chronology he prepared in 1999 and updated in 2005.
William H. Littlefield Chronology
1902
Oct. 28 William Horace Littlefield born in Roxbury, Massachusetts, a Boston community, at the Hotel Warren, Warren Square. His mother was Ernestine (Annie) Tamagne Littlefield (March 13, 1874 - Oct. 3, 1933), an owner of a riding stable and school, and father Samuel Horace Littlefield (July 26, 1867- Feb. 9, 1933), a Harvard-educated medical doctor. They had been married in Roxbury, July 1896.
1908 - 1914 Enrolled in public grammar schools.
1914 - 1920 Attends Roxbury Latin School where in his first year he receives recognition for his manual dexterity in drawing. Next three years are unproductive ones in his art studies.
1919
Fall
Begins his study of drawing, and later painting, in private lessons with Adeleine Wolever, an enthusiast of Impressionism who had studied with the Boston painters Frank Benson, Charles Woodbury, and Edmund Tarbell. Wolever was the mistress of Ananda K. Coomeraswami, the Harvard scholar of Indian culture. She teaches Littlefield "the colour and visionary charms of Impressionism" but "the technical effect of the old masters were not explained [by Wolever] and I considered them as incredibly grimy and dirty, lacking in naturalistic effect."
1920
March Completes his first painting Bridge in the Fenway.
Summer Continues his tutorials with Wolever, and begins a painting at the Lotta Crabtree estate in Squantum, Massachusetts
Fall Enters Harvard, Class of 1924.
1921
Writes a paper on the English illustrator Claude Lovat Fraser. Summer in Squantum and Maine.
1922
April Visit to Fort H. G. Wright on Fisher's Island, New York, where a family friend Col. Robert Abernathy is commander. Paints Fort H. G. Wright, Landscape.
Takes art history, life drawing, and art technique and technical classes at the Fogg Art Museum, Harvard's art department at the time, but continues his private lessons with Wolever until 1923.
1923
April Completes his eighth painting Self Portrait at the Age of XX. Sends his drawings watercolors for critique to William Zorach, from whom he buys woodcuts.
1924
May Graduates with an A.B. from Harvard. At his orals expresses desire to become artist, displeasing his examiners.
Summer
Is riding instructor at his mother's stable in Boston.
Early October
Departs for France to study art, with his parents giving him two years to succeed, suggesting he become a pupil of Matisse or Picasso.
In November parents buy summer residence that doubles as a doctor's office and riding stable, 29 Depot Avenue, Falmouth, on Cape Cod.
1925
March
Makes his first visit to St. Tropez in the south of France and from there travels to Italy and visits the artists Ioni in Sienna and Lochoff in Florence. They don't offer him any encouragement.
Summer
Returns to St. Tropez and hires his first model, a hotel scullion who frightens him by his poverty and melancholy. Next hires a 16 year old girl, posing her on his bed: "There I was a virgin even if she was not." Meets Nicholas Podiapolski, his future lover and model. Gets into fist fight with a dandy who stole $20 from him in check-cashing scam. Meets Nora Wilber, a "Russian Jewess" painter
1926
Summer
Spends summer in Brittany "poring over photographs" of Italian paintings, dissecting their compositions with lines.
Winter
In Paris is introduced to a Brazilian art theorist, an M. Aranjo, and studies color and proportion theory using an "elliptical method" of analysis..
1927
Summer
Paints in St. Tropez. Completes Satyr and Nymph and Landscape at St. Tropez Beyond Segonzac's House. Meets the dealers Segonzac and Luc Albert Moreau, who express interest in his work. Uses the "elliptical method" for his portrait of Mme. Vanleer, but then decides it's "an academic delusion."
Winter '27-'28
In Paris, begins his Boxer series of drawings and lithographs (taken from sports magazines) on commission from Editions Quatre Chemins, Derain and Rouault's publisher. Joins the Societé des Artistes Independants and exhibits in its annual.
Dec. 27
Beginning of his sexual relation with Nicholas Podiapolski, who is also his model.
1928
June in Bréhal, on the Brittany coast near Cherbourg, with Nicholas. Paints Study for The Bather in Red and Bather Wiping His Foot using Nicholas.
July
In Fontainebleau with Nicholas. Completes Bather in Red before their departure on a bicycle trip from Fontainebleau to the south of France, where they arrive in early August.
Summer
At Cap Grimet with Nicholas. Paints several other studies of Nicholas: Seated Bather in a Striped Jersey, Man Asleep in the Grass.
August
Paints at Plage de Pampelonne, a beach near St. Tropez, doing Seated Nude Bather with Nicholas. On August 6 is in Toulon painting Nicholas as Sailor Asleep, posed in front of a small fishing boat, his last painting of his model. Nicolas departs for Paris and begins relation with a woman.
September
At the Hotel des Place des Lices, St. Tropez. Paints Portrait Head of Wm. Taliman Russell and Man in a Beige Cap-Man from St. Tropez.
Fall-Winter
Lives at 11 rue Cassette, 6th Arrondissement, Paris, near the Jardin de Luxembourg. Later shares a studio/apartment with British painter and printmaker S. W. Hayter, at 23 Villa Chauvelot in the 15th. Whereas Hayter had become a modernist, Littlefield at this time neither adopted modernism nor was accepted into its circle of adherents and advocates. Applies for a 1929 - 30 Guggenheim Fellowship in painting and is turned down.
1929
June
Returns to the United States, that summer spent painting in Falmouth, with his parents at 29 Depot Ave. Paints Buoys, Woods Hole.
Winter '29-'30
In Boston living at his parents', 20 Chapel Street, Brookline. Later moves with them to 43 Binney Street, Boston, which becomes the winter location of Annie Littlefield's Longwood Riding Stable.
1930
Becomes acquainted with Lincoln Kirstein, editor of Hound & Horn and director of the Harvard Society for Contemporary Art, where Littlefield is shown in June.
September
Begins Saconessett Hills with his parents in mid-ground. Finishes Pickers in a Cranberry Bog and The Relief Ship, Woods Hole.
November 25
Finishes commissioned full-length portrait of Lincoln Kirstein as a barefoot sailor.
1931
Establishes a studio on Beacon St., Boston. Domenic Testa and Robert Edward Bailow become his models. Teaches at the Painter's Workshop with Gardner Cox and other Boston School artists.
Does sketches for a wedding portrait of Eric Schroeder and Marn Forbes, "the sort of scene described in Kirstein's Flesh Is Heir."
June
Visits H. M. Gibbs in Harwich, Massachusetts doing two paintings of Buck's Creek.
1932
March Paints David Standing on the Head of Goliath, 4 x 7 feet, first of his semi-erotic male nudes, done for the Kirstein-organized mural competition of the Museum of Modern Art. Model for Goliath is Adam Sichol; for David, Walter Winthrop Souza.
May
Does Salon at 312 East 53rd Street (Muriel Draper's), a commission from Lincoln Kirstein.
1933
Feb. 8
His father, Samuel Horace Littlefield, dies at 63 after complications from an operation. Eros with a Bow, "the last painting of mine seen by my father."
May
Full-length wedding portrait of Eric and Marn Schroeder.
October 3
Suicide of his mother, Annie Littlefield, at her riding stable, Dillingham Avenue and Gifford in Falmouth. Littlefield insists on drawing her body before the undertakers remove it. Stable Yard and Paddock, "the last painting seen by my mother." Inherits the Depot Ave. and Binney Street properties, just enough assets to "keep a roof over my head."
1934
February Portrait of Eric Schroeder in a Persian robe, commissioned by Lincoln Kirstein.
October
At Kirstein's request, does stage sets for Serenade and Mozartiana, the American Ballet of New York's first production, performed at the Wadsworth Atheneum, Hartford.
1935
Winter '34-'35 At Binney St., Boston.
August
In Falmouth painting four Woods Hole and other local scenes.
Fall
At least seven paintings done for the WPA.
December
Youth and Satyr, Robert Bailow and John Barnett, models.
1937
Large-size paintings on Greek and Roman mythological themes: Hercules and Lichas, Neptune and His Cortege, Syren, Triton and Nereid. Numerous commissioned portraits.
November
Completes 7 x 21-foot mural with football theme for the Lawrence School, the local high school for Falmouth, titled The Coffin-Corner Kick.
1938
Ten portrait commissions during year. Executes more mythological-based works (Aurora and Phosphor, Children of Aeolus, Neptune and Triton) and Cape landscapes and still lives.
August and September in Falmouth.
1940
Paints Orenda Classica with dancer Jose Limon as model.
February
Female Nude among Waves with Arm Upraised (Venus Rising), Shirley Warren model.
1941
August
Standing Female Nude Front View, one of several works with Shirley Warren as model.
November
Bucolic Love, Jose Limon model.
1942
Feb. - May
Executes the majority of the 16 portraits for his Poets and Their Manuscripts exhibition.
October Inducted into U.S. Army just before turning 40. Basic training, Military Reserve Training Camp, Camp Pickett, Va.
1943
Camp Pickett. Paints murals for the company day room and post headquarters on classical themes with portrait of Jose Limon, easel paintings incorporating military objects, and stage sets for base theater productions.
1944 Feb. - Aug.
Reassigned to Military Police Escort Guard watching over German prisoners of war at Camp Pickett, ending his artistic work in the army.
March
Appeals to Paul Sachs for position with the American Commission for the Protection and Salvage of Artistic and Historic Monuments in Europe, but nothing comes of it.
May
Month of Combat Engineers basic training at Camp Lee, Va. Participates in War Bond exhibition in Richmond.
Aug. - Sept.
Reassigned to Camp Claiborne, La., reproduction branch, Special Services, where he remains until discharge.
Nov. - Dec.
Confined to base hospital, Camp Claiborne, for circulatory problems, which last until his death.
1945
April
Discharged from army.
1946
Converts the carriage barn at 29 Depot Ave., Falmouth, into his studio and redoes the other half of the building into a permanent residence where he lives when not in New York City or Provincetown. Gives up the family residence at 43 Binney St., Boston.
His article "Modern Art and Photography" published in Highlights of Photographic Art edited by B. Vincent Abbott, Boston
1947
Becomes co-founder and co-director of the Cape Cod Art Association, Hyannis, Mass.
Summer
At Depot Ave., Falmouth. Paints Nonamesset House and Portrait of Margaret Hughes.
Winter '47 - '48 Remains mostly at Depot Ave.
1949
Summer
In Falmouth. Fred W. McDarrah becomes his model, and documents life at 29 Depot Ave. and the visits to Provincetown and Naushon Island.
1951
Death of Donald Forbes, his close artist friend since 1930.
July - Sept.
Attends Esteban Vicente's Highfield Art Workshop in Falmouth, where De Kooning is guest lecturer and Gottlieb, Hofmann, Kline, Motherwell, Pollock, Reinhardt, Rothko exhibit.
Fall
Rents studio at 119 Stanton St., Lower Manhattan, his first of two winter residences he keeps in New York City; becomes pupil of Morris Davidson
1952
January
First New York City show since 1932, at Contemporary Arts, which reveals his departure from traditional work into "semi-abstract space composition having simultaneous surface and depth relationships."
Fall
The Club, a membership organization of mostly 10th Street scene Abstract Expressionists, formed with Littlefield's participation.
1953
January Writes "Is There a New American Art," a polemic with Thomas Hess's catalogue introduction to Willem DeKooning's show of the Woman series, and submits it to ARTnews, which rejects it.
February
Submits to ARTnews a polemic about Harold Rosenberg's "The American Action Painters," which is also rejected.
The Club rents a space at 39 East 8th St., the first of its several locations, followed by 818 Broadway (1955), 20 East 14th St. (1957), 73 4th Ave at 10th St. (1958), 150 West 15th St. (1959). Littlefield becomes its "administrator" and/or "secretary treasurer" over the years.
1953
June - Dec.
Paints 76 abstractions in seven months, sometimes several in a single day. At same time does 19 colored wood bas-relief constructions in a Cubist style, including the 2 x 4 foot Harlequin Conjurer.
1954
Jan. - April
Continues fast-paced production of abstractions, 62 between March and Aug. Shows them at Cape Cod Art Association.
1955
Defines himself as an Abstract Expressionist. "Recent Paintings" at Regina (May) and Brodley (Nov.) galleries, NYC.
1959
Feb. - March One-man show, "Paintings 1956/1957/1958", at Nonagon Gallery, 99 2nd Ave.
July - Aug.
His collection of second-and third-generation Abstract Expressionists exhibited as "The New American Painting - 10th Street, N.Y." at the Cape Cod Art Association. Over the next nine years fails to find a home for collection and it's sold off in his estate sale.
August
Begins a weekly column of art criticism called 'Art Corner' in the Falmouth Enterprise, which continues off and on, mostly in the summer and fall months, until his death.
1960
Engages in a polemic with his teacher Hans Hofmann in the pages of Philip Pavia's art theory and criticism journal It Is. Littlefield answers Hofmann's "Space and Pictorial Life" that appeared It Is No. 4, followed by a double rejoinder by Hofmann.
1960s
His life is increasingly devoted to exhibition hanging, judging, art criticism, and local administration on the Cape, while continuing to stay in NYC in the winters. The Club dissolves in the early '60s.
1965
February
Author sees Littlefield at his 537 East 13th St. tenement; followed by our visiting Milton Resnick on Allen Street.
1969
Feb. - March
Exhibits 32 works done by floating oil on water and lifting a ground to capture patterns, which are then modified with markers, at the Cape Cod Conservatory of Music and Art, Littlefield's last show.
July 4 or 5
Dies at 29 Depot Ave., his body discovered by friends after his failing to turn up at a dinner party.
1970 - 71
Summers
Littlefield's estate, including 3,087 of his own works, sold by the New Haven antiques dealer Nancy Stiner, who purchased the estate from Littlefield's first cousins Camille Gruppé and Dorothy Cleaves. Works were on display and sold at 29 Depot Avenue.
1981
March
Auction of the estate of Thomas G. Ratcliffe, Jr., a friend of Littlefield's who had an extensive collection of his work, much which was donated to the Woods Hole library, now in the Woods Hole Collection and Historical Museum.
1983
May 18 Cambridge, Mass., auction of a substantial portion of the Littlefield estate poorly attended, with bids well below estimates.
1999 This Chronology compiled by Arthur Hughes from the William H. Littlefield Papers at the Archive of American Art, Smithsonian Institution, Washington D.C.
2006: May 27 to August 27: William H. Littlefield (1909-1969): A Retrospective Cape Cod Museum of Art, Dennis, Massachusetts.
July 7 to September 3: William H. Littlefield/Collage/Collaboration, and Correspondence (1949-1969) Provincetown Art Association and Museum
June 17 to October 17: William H. Littlefield: Paintings from Our Collection.
Woods Hole Historical Museum, 579 Woods Hole Road, Woods Hole, Mass.
This material is from askart.com.