Blanche Lazzell
(1878-1956)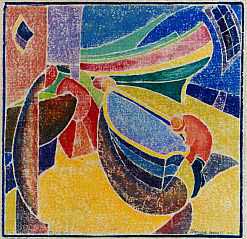 Blanche Lazzell, Four Boats, white line print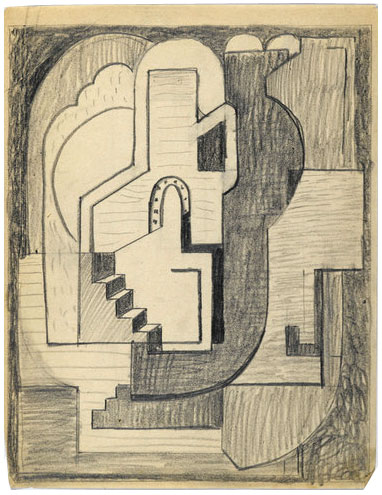 Blanche Lazzell's "Sketch for Abstract Composition" (1924). "Fine Lines: American Drawings From the Brooklyn Museum" at Brooklyn Museum, 200 Eastern Parkway, at Prospect Park; (718) 638-5000, brooklynmuseum.org.
Tendrils of the Artist's Essence 'Fine Lines,' at the Brooklyn Museum by Roberta Smith, New York Times
Blanche Lazzell is know primarily for her involvement with the Provincetown art world where she first sojourned in the summer of 1915.
She was a painter, printmaker, and rugmaker.
After a brief period when she was influenced by Impressionism (originally having come to Provincetown to study with Charles Hawthorne), Lazzell developed a decorative, geometric and cubist style, perfectly suited to flowers and the houses, wharves and rooftops of Provincetown, making mostly white line prints (with Ethel Mars, Maude Squire, Mildred McMillen, Ada Gilmore, Juliette Nichols and B.J.O. Nordfeldt under Provincetown Print project).
Artists flocked to Provincetown during WWI, when the doors to Paris were closed, and Lazzell described the feel of the town in those times: "Creative Energy was the air we breathed.
It was in this quaint setting that the Provincetown Print came into being." And it was in the creation of the Provincetown Print that Blanche Lazzell was to excel.
She once explained: "Originality, Simplicity, Freedom of Expression, and above all Sincerity, with a clean cut block, are characteristics of a good wood block print."
excepts from "Blanche Lazzell" by John Clarkson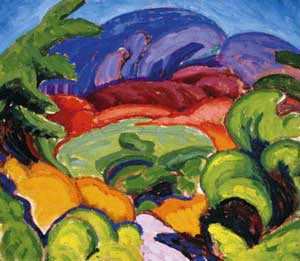 Blanche Lazzell, Cape Cod in Autumn, 1918-19
oil on canvas, 17" x 19-3/4"
Private Collection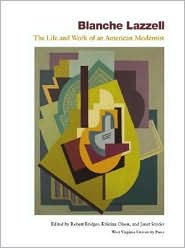 Blanche Lazzell: The Life and Work of and American Modernist
Publisher: West Virginia University Press
Pub. Date: July 2004
ISBN-13: 9780937058848
238pp/200 color illustrations
Editors Robert Bridges, Kristina Olson and Janet Snyder present nine contributions that give an overview of her life and work, including her participation in the Federal Arts Projects and her two extended trips to Europe, and discuss art studies in America at the beinning of the 20th century.
. . . . . . . . . .
Museum of Fine Arts, Boston has an extensive holding of work by Blanche Lazzell.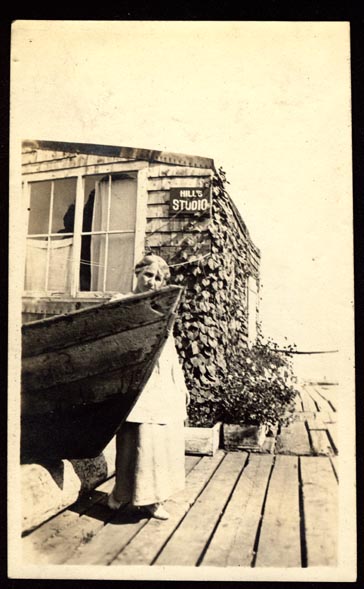 Blanche Lazzell, 351A Commercial Street studio, Provincetown
Read more here about 351A Commercial Street and Blanche Lazzell on Building Provincetown, The History of Provincetown Told Through Its Built Environment by David W. Dunlap....
Jan 18-Feb 17, 2002. The Provincetown Art Association and Museum: exhibition of Blanche Lazzell and Dorothy Loeb. Curated by Jim Bakker, this exhibition will highlight work from private collections in Provincetown and will be companion show to: From Paris to Provincetown: Blanche Lazzell and the Color Woodcut at the Museum of Fine Arts in Boston. (Jan 23-Apr 29, 2002). NY Times story...
The MFA has borrowed 5 works from PAAM's collection to include in the exhibition.
After Boston, the MFA show travels to the Cleveland Museum of Art (May 19-July 28, 2002) and to the Elvehjem Museum of Art, University of Wisconsin, Medison (Sept 7-Nov 3, 2002).