C.J. Lori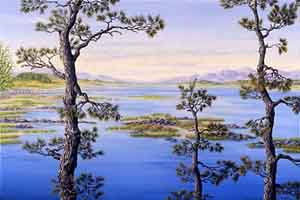 I paint a tree or landscape as a metaphoric portrait in which we can see ourselves. Through my paintings, I try to reconcile the strength and beauty with the vulnerability and decay faced by all living things to celebrate splendor without denying its inevitable ruin.
I also explore issues of perception and memory. The desire to have another see through my eyes is a compelling motivation. To me, painting is a form of communication through which I try to convey my experience in a way that the viewer will see what I see and feel what I feel. I will exaggerate or distort color, form and composition to help transmit these subjective observations.
Memory distorts reality by its very nature, shifting focus, selecting and discarding without conscious decision. The process of painting is like visual memory in action, with the opportunity for more deliberate choices.
My primary medium is oil paint on canvas or panel. Paint is applied in many layers, building and adding nuance through color. I often work with very small brushes for fine detail. I find satisfaction in intricacy, because it appeals to me viscerally, and because it parallels some of the complexities I am trying to capture and express in my work.
--C.J. Lori
Represented by Lyman-Eyer Gallery, 349 Commercial Street, Provincetown, MA 02657