Arthur Franklyn Musgrave
1878-1969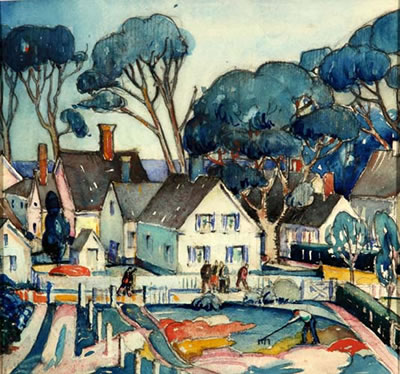 Arthur Musgrave, Provincetown Garde, watercolor, 9.5" x 10"
Born in Brighton, England, Arthur Musgrave was a pupil of Stanhope Forbes at the Newlyn School of Art in Cornwall. He also studied in Munich. He went to Santa Fe in 1916 to recover his health from having served in World War I and was the first to paint a depiction of the Museum of Fine Arts, then under construction.
Later he donated several paintings to the New Mexico Museum. He also spent time at Cape Cod, Massachusetts where he had a summer house at Truro. His main residence remained in Santa Fe.
One of his works is in the British Embassy in Washington DC. His wife Helen Greene Musgrave also was an artist as were two of his daughters, Rosie Musgrave Bothell and my mother Barbara Brooke Musgrave Tuthill.
Sources: askart: David W. Tuthill, grandson of the artist
Edna Robertson and Sarah Nestor, Artists of the Canyons and Caminos
Peter Falk, Editor, Who Was Who in American Art