Simie Maryles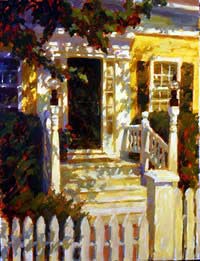 Simie Maryles began her painting career while still a very small child in the suburbs of New York City, doing drawings to entertain herself and losing herself often in the art section of the local public library, ingesting all the great art she could find in the books. Following a year at State University of New York at Binghamton and several months travelling in Europe, she began her formal art training at The Ecole des Beaux Arts in Paris, France, then returned to New York to study painting at The Art Students' League of NY with David Leffel, Everett Raymond Kinstler and Vincent Malta, and at Pratt Institute in Brooklyn, NY.
Simie Maryles first came to Provincetown, on Cape Cod, MA, in the summer of 1974 to work as a pastel portrait artist in the tourist trade. It was there, in Provincetown, that she first began painting landscapes "en plein air" and became intoxicated with outdoor painting and color. Her style of painting, which up until this time had been more classical and tonal, reflecting the urban environment she had come from, began to shift to a much more intensely colorful and "broken-brushstroke" approach, clearly influenced by the bright clear light at the seashore and also the community of Impressionist painters living on Cape Cod.
The evolution in Maryles' painting style and subject matter has continued to grow, starting with pastel landscapes of gardens and marshes in sunlight, to a full exploration of mixed media pastel painting (such as acrylic and pastel, sometimes with added marbledust) and finally to a return to oil painting. The sunny garden motif widened to include the moodier romance of evening paintings and then winter night paintings with wind and window lights. The oil paintings, like the pastels, display a skillful use of painting technique that employs broken strokes of brilliant pigment over colorful underpainting. Most notable in Maryles' painting is her use of light, both sunlight and lamplight, and her ability to evoke powerful emotions.
In 1998 Simie Maryles, together with her husband, sculptor and blues musician, Moe Van Dereck, opened their own gallery in Provincetown. Previous to owning her own gallery, Simie Maryles had shown her work in galleries in Boston, Los Angeles, Simsbury, CT, and in Wellfleet and Provincetown on Cape Cod. She has participated in juried and museum exhibitions in New York, Washington, DC, and Los Angeles. In addition, her work has been included in numerous books published by Quarto Publishing of London, England, and North Light Books, USA. Maryles has successfully completed corporate commissions in Boston and in New York City. Her paintings are included in private and corporate collections throughout the US and in Europe.
Simie Maryles currently resides in Provincetown, MA with her husband and their two sons.
Text courtesy Simie Maryles Gallery
Represented by Simie Maryles Gallery, 435 Commercial Street, Provincetown, MA 02657
tel 508 487 7878
www.simiemaryles.com