David Matias
1961-1996

David Matias was born David Thomas Matias Rodriquez in Dallas, Texas on February 5, 1961, and grew up in Kerrville, Texas, the fourth generation son of Baptist ministers.
He attended Trinity College, San Antonio, Texas, on scholarship, graduating in 1983 with a BA in Speech and Drama. He was awarded a graduate fellowship for an MA in Theater at the University of North Dakota, which he completed in 1987.
In 1988, Matias moved to Provincetown and threw his heart and soul into the community, especially the Provincetown Theatre Company, where he acted in and directed many productions and served on the Board of Directors. Matias wrote, directed and played in Nova Nino, his one-man play about growing up in rural Texas. He directed fellow Provincetown playwright Sinan Unel's Thalassa, My Heart, and acted in Unel's Three of Cups. He directed Kramer's As Is and The Normal Heart. In 1992, he directed the very demanding Who's Afraid of Virginia Woolf.
David began to exhibit the signs of HIV infection in 1990. In speaking of his passion and commitment to his art in a 1992 interview, David gave due to the AIDS epidemic and his HIV status. "My status," he said, "teaches me that you need to embrace fear because it's amazing where it can take you. You can sit in fear and see where it takes you spiritually and the challenges it gives you. It does enrich your art."
David's later writing became a prolific outpouring of poetry, and in 1993 his collection of poems Dances with Family and Disease was published, in which he spoke frankly and eloquently about the experience of living with AIDS. In 1994-5, Matias was awarded a poetry fellowship at the Fine Arts Work Center.
His poems were published in Cosmos magazine, Provincetown Art, Body Positive, New Letters, and the anthology Starry, Starry Night. Two poems appeared in the 1997 anthology Things Shaped in Passing: More Poets for Life Writing from the AIDS Pandemic. In 1998 his second volume of poems, Fifth Season, was published posthumously by Provincetown Arts Press at the Provincetown Poets Series, Volume VII, edited by Greg Miller, poet and Fellow with David during his tenure at the Fine Arts Work Center and poet Frank Bidart. In speaking of the poems in this book, Robert Pinsky, Poet Laureate of the United States, said, "...This is a rich, deeply intelligent book, a triumph of art and feeling."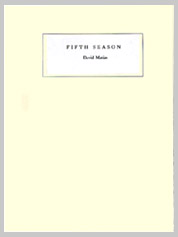 David Matias was active in the Unitarian Universalist Meeting House in Provincetown and served as co-chairperson of the committee that established the Provincetown AIDS Ministry, one of the first organizations in the country created specifically to support the spiritual life of those living with AIDS. He was a member of Provincetown AIDS Support Group and a passionate AIDS activist.
At Thanksgiving, 1996, the life commitment between David Matias and Dr. Lennie Alberts, was blessed in a union ceremony performed at the Matias home in Texas by David's father, the Reverend Matias Rodriquez.
David Matias died at home in Provincetown on December 13, 1996 in the company of his lover Lennie, his cats Opal and Booda, and beloved friends. He was 35 yeas old.