Michael Mazur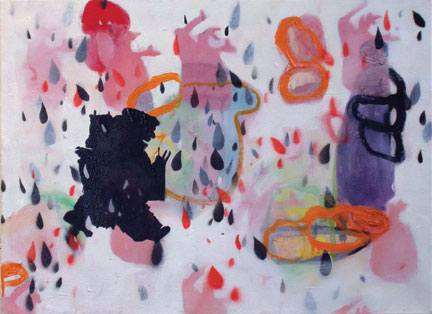 Kaldis in Hell, 2005, acrylic on canvas, 22 x 30 inches
. . . . .
THE BOSTON PHOENIX
Michael Mazur, 1935-2009
Painter, printmaker, teacher, art historian, curator, political/social/arts activist, Red Sox and Celtics fan
By Lloyd Schwartz, August 27, 2009
"He was so alive," a friend wrote to me a few days after Michael Mazur died, on August 18. Painter, printmaker, teacher, art historian, curator, political/social/arts activist, Red Sox and Celtics fan, Michael Mazur lived more than just one full life — and with boundless, tireless energy. I'm lucky to have counted him and his wife, poet Gail Mazur, among my dearest friends.
No one made me laugh harder than Mike — the worse the pun (though occasionally there'd be a brilliant one), the bigger Gail's groan, the more I'd laugh. One summer I was visiting them at their summer home in Provincetown. They were teaching at the Fine Arts Work Center — an institution particularly dear to them. (Both served on the FAWC board of trustees — Mike as chair for five years.) Mike was giving a talk there about monotypes — the form of printmaking closest to painting (no two are exactly alike), and for which his innovations are famous. That morning, whoever was supposed to introduce him canceled, and Mike asked me to step in. Since I hadn't prepared anything, my brief introduction was more personal than the usual list of distinctions. I talked about how even though Mike was one of the funniest people I knew, he was also a serious artist and thinker. After his talk, several people told me they were puzzled by my remarks. Mike was such a tough and demanding teacher, they had no idea he could be funny. Of course, that humor and that seriousness came from the same life force. Fortunately for his friends, we could have both.
Michael Burton Mazur was born in New York in 1935 and grew up in Manhattan, a privileged only child. He attended the celebrated Horace Mann High School in Riverdale. (Anthony Lewis, Elliott Carter, Roy Cohn, Tom Lehrer, Renée Richards, and Jack Kerouac are among its other illustrious alumni; contemporary art curator Henry Geldzahler and cartoonist Ed Koren were Mike's classmates and friends.) At Amherst College, he spent his sophomore summer studying with Smith College artist and printmaker Leonard Baskin and took a year off to spend in Italy — one of his great loves. (Titian was a special favorite.) And he married Gail Beckwith, who was a student at Smith. (They just celebrated their 50th anniversary.) His graduate work was at the Yale School of Art and Architecture, where Neil Welliver and Fairfield Porter were among his teachers; he had his first solo exhibition in 1960, the year after he received his BFA. Working toward his MFA, he became sculptor Naum Gabo's assistant. In 1961, he started teaching: printmaking, life drawing, and anatomy at Rhode Island School of Design. On a Guggenheim, in 1964, he moved to Cambridge with his family — the Mazurs now had two children, Daniel and Kathe.
Shows began to happen. Awards began to accumulate. In 1965, he published his first unqualified masterpiece, a portfolio of 14 lithographs, powerful black and white scenes in a mental hospital called Images from a Locked Ward, his first artistic descent into Hell. In 1968, he published his first image based directly on Dante's Inferno, in Boston's Impressions Workshop fundraising portfolio for the group Artists Against Racism and the War.
He refused to repeat himself. He explored narrative images (curating a show at MIT called The Narrative Impulse) and nature images, images based on Chinese landscapes (after a trip to China in 1987) and abstraction. He wrote a landmark essay on monoprints for the catalogue of a show at the Metropolitan Museum called "The Painterly Print" (it came to Boston's Museum of Fine Arts in 1981) and had a key one-man show, "Branching: The Art of Michael Mazur," that traveled to the DeCordova Museum in 1997 — pictures with ambiguous images of trees that also look like arteries. (In 1993, he had been diagnosed with heart disease.) In 2000, the Zimmerli Museum at Rutgers organized a major retrospective, "The Prints of Michael Mazur," that also included recent paintings and an ambitious catalogue raisonné. The show opened at Boston's MFA before traveling to the Minneapolis Art Institute, the Cantor Arts Center at Stanford, and, finally, the Zimmerli.
Mike also got more and more involved in the literary world. In 1982, he created a luminous, unsettling series of flower monoprints to accompany (not exactly to illustrate) a new translation of Baudelaire's Les fleurs du mal by Richard Howard that was published by David R. Godine. His paintings and drawings begin to appear on the covers of literary magazines: a portrait of Cavafy on Stratis Haviaras's magazine Arion's Dolphin; portraits of Seamus Heaney, Bill Knott, and Michael Harper for the issues of Ploughshares they guest-edited, and dazzling covers for Gail Mazur's two issues. Gail used paintings by Mike on the covers of three of her poetry books — The Pose of Happiness (a bedraggled but heroic wingback chair), The Common (a mysterious Cambridge backyard scene), and Zeppo's First Wife (a daffy, delicious abstraction) — and they collaborated on broadsides of her poems "Next Door" and "Young Apple Tree." He also created a sinister cover — the jawbone of a shark — for Robert Pinsky's collection The Want Bone.
Mike's best known work is probably the series of illustrations he did for Pinsky's translation of Dante's Inferno. Here is his "return" to Italy (he could actually read the original) and a blossoming of his early impulse to respond to Dante. They've been exhibited all over the world (including Italy). Pinsky's dramatization of Inferno used slide projections of Mike's images. Pinsky/Mazur lecture/readings went on the road. Except for the flaming-red cover, these black-and-white images are both beautiful and terrifying. Mike called them "parallel translations." I'd like to quote a paragraph from my essay "The Poetry of Illustration," which I wrote for The Prints of Michael Mazur catalogue, partly because it was Mike's favorite passage in that essay. It's about his image from the Canto in which Count Ugolino tells his harrowing story. He's frozen in the center of Hell, gnawing on the head of his arch-enemy, the archbishop who imprisoned and starved him and his sons, whom, after they died, Ugolino may have been driven to eat. Mazur's insight into Inferno is that Dante's great emotion is not horror but sadness.
Every detail of Mazur's monotype contributes to the tragic insight. Ugolino is in semi-profile. His head is tilted slightly back. His mouth is open in a wide O, pressed against the back of the Archbishop's skull. We focus on his eyes, glancing sidelong at his interlocutors, Dante and Virgil. And at us. The look combines guilt, suspicion, and the desire for exoneration, with the depths of sorrow and helplessness. This is his fate — there is nothing else he can do. He is looking at us — challenging us — to understand that none of us are exempt from this condition. Are those tears streaming down his cheek or just lines in his face? And in the distance is endless darkness. Mazur has risen to one of an artist's greatest challenges. This is one of the most graphic embodiments of the tragic vision by any artist — Aristotelian "pity and terror" — a devastating visualization of Dante's words that is finally also (and must be) beyond words.
In his last months, as he suffered from both dermatomyositis (a rare auto-immune disorder) and heart disease, the two illnesses requiring virtually opposite treatments, Mike's inexhaustible energy started to diminish, though not his artistry. He began a series of delicate pen-and-ink drawings of flowers and his gardens in Cambridge and Provincetown. He talked about how they were "like breathing on the page." And in their quiet heroism, fragility, wildness, and power, these "fleurs de bien" are self-portraits. The morning before he died, he'd done four of them; then he went into the room where Gail was on the phone and spread out his five fingers. Gail thought he meant he had now completed five, but he actually meant that he'd done five more! The following day, he asked Kathe, who was visiting from California, to take him to the Harvard Museum of Natural History so he could sketch the glass flowers. But his heart gave out before that visit. It doesn't seem possible that a heart so big could ever give out.
Text copyright the Boston Phoenix.
Represented by Albert Merola Gallery, 424 Commercial Street Provincetown, MA 02657 tel 508 487 4424