Robert Motherwell (1915-1991)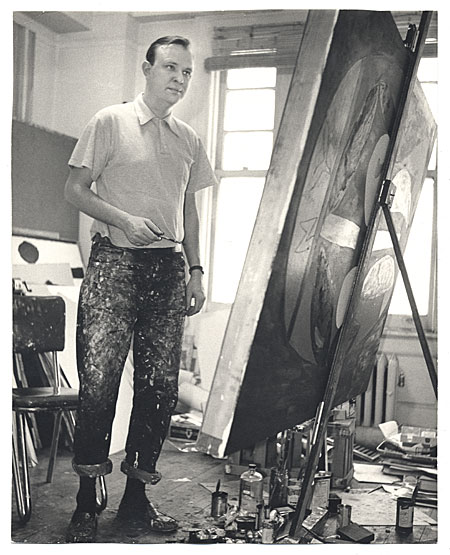 Recollections of Robert Motherwell
By
Jeannie Motherwell
My earliest recollections of Dad in his studio date back to when he was married to my mother, Betty Little. When I was born in 1953, he purchased a five-story brownstone townhouse on the Upper East Side of Manhattan. Dad designated the basement as his studio and worked mostly at night. I remember a sliding glass door leading to a patio outside where my sisters and I liked to play. I learned by the early age of four, Dad's studio space was sacred territory and off limits to us without adult supervision. We were never allowed to run outside to the patio by ourselves. It may have been the first recollection I have of the importance of this space to him.
In 1957, my parents divorced and Dad married Helen Frankenthaler the following year. My sister and I now summered with my father and Helen in a 100 year old captain's house on the corner of Allerton & Commercial Streets in Provincetown, MA (currently owned by the artist Cynthia Packard). One summer, an old cottage across the street on the water side went on the market because the long-time owner died. I remember Dad spending days sitting on its vacant deck hoping one day he would be able to buy it. However, now that he had this opportunity, the deal almost went sour because the owner's family didn't want to part with it. Eventually he was able to purchase the house by the end of the following summer. He tore the whole structure down except for the stairs and chimney as per code and rebuilt it calling it the "Sea Barn". The house was built to look and feel like a ship. In fact, he often referred to himself as the "Captain of his ship". Originally the Sea Barn was supposed to be our "beach house" - the bottom floor for my sister Lise and me to play, and the top two floors designated studios for Helen and Dad.
Dad fell in love with living on the water almost immediately, perhaps reminding him of his roots in California. Soon after, he sold our house on Allerton Street to the renowned chef Michael Field and restructured the Sea Barn so we could all sleep on the second floor where Helen's studio was located. Helen subsequently rented a studio at Days Lumber Yard (now the Fine Arts Work Center), while Dad used the top floor of the Sea Barn as his studio. I remember the barn doors opening from his third floor studio to hoist large paintings up and down, using a pulley system, because the original stairs were too narrow to accommodate moving larger objects.
Dad moved to his Greenwich, CT studio (from New York City) shortly after divorcing Helen in 1970. I was just entering Bard College in upstate New York at the time, so I often visited him on weekends. My friends and I would drive down to Greenwich, conveniently park my car at Dad's house and then head via train to NYC for art openings and to visit museums. During these trips it was not unusual for me to visit Dad in his studio. He seemed to respect my eye and he often asked me what I thought about paintings he was working on at the time. Since I had just begun to paint myself, I eagerly looked forward to our discussions. He made me believe I had a keen eye for identifying "authenticity" in his work.
The Greenwich studio is where he spent the rest of the year painting. It was more organized by "zone". He had separate studios for each medium - seven in all, including a large print studio, a collage studio, a painting studio, and so on. The large expanse of the main studio, a former Carriage House, had sliding racks that seemed to come out of the walls from nowhere. On each rack he hung his largest paintings for easy viewing from a distance. When he no longer wanted the distraction of these pictures, and so he could focus more on making new paintings, he simply slid them back into the wall. This was also a very efficient way for curators, collectors, and visitors like me to view his larger work.
Another factor about this particular studio, was the daily routine he developed working with his three-person "crew" to help run his business. Sometimes he would entertain friends, colleagues, and critics at lunch where he often told marvelously eloquent stories about artists he knew, the state of the art world in relation to modern art, etc. By night, he would paint after dinner until 2 a.m. or so before retiring for bed.
Today I can see how Dad's work ethic is clearly influencing mine. While I am employed full-time at Boston University by day, each night I religiously retreat to the bottom floor of my townhouse to be in my studio. It is my sanctuary where I can drown out the stresses of the day and be in my own uninterrupted world. I have a television and a music box which I paint by; I let the answering machine take my phone messages; I have clippings and works by favorite artists hanging on my walls, and I work on several paintings at a time. I often work in series. All these things I learned from having visited my father's studios so often.
Dad was most prolific in his Provincetown studio. Spending only 4 months of the year there, he produced more work than he did in any other of his studios or at any other time of year. As was the case in his work, my painting is often influenced by Provincetown and the views we shared from our respective studios on the water - with a profound love of the ever-changing Provincetown Bay. Though I have not had a studio in Provincetown for years, my work still reflects the strong impact it had on me.
Jeannie Motherwell, Cambridge, MA 2008
Courtesy Provincetown Arts
.......
Robert Motherwell (January 24, 1915 – July 16, 1991) was an American abstract expressionist painter and printmaker. He was one of the youngest of the New York School (a phrase he coined), which also included Jackson Pollock, Mark Rothko, Willem de Kooning, and Philip Guston.
Motherwell was born in Aberdeen, Washington. He received his Bachelor of Arts degree in philosophy from Stanford University in 1937 before completing one year of a philosophy Ph.D. at Harvard before shifting fields to art and art history, studying under Meyer Schapiro at Columbia University.
His rigorous background in rhetoric would serve him and the abstract expressionists well, as he was able to tour the country giving speeches that articulated to the public what it was that he and his friends were doing in New York.
Without his tireless devotion to communication (in addition to his prolific painting), well-known abstract expressionists like Rothko, who was extremely shy and rarely left his studio, might not have made it into the public eye. Motherwell's collected writings are a truly exceptional window into the abstract expressionist world. He was a lucid and engaging writer, and his essays are considered a bridge for those who want to learn more about non-representational art but who are put off by dense art criticism.
Motherwell spent significant time in Provincetown, Massachusetts.
Motherwell's greatest goal was to use the staging of his work to convey to the viewer the mental and physical engagement of the artist with the canvas. He preferred using the starkness of black paint as one of the basic elements of his paintings.
One of his more well-known techniques involved diluting his paint with turpentine to create a shadow effect. His long-running series of paintings "Elegies for the Spanish Republic" is generally considered his most significant project.
The Modern Art Museum of Fort Worth houses the largest collection of Motherwell's works. The Walker Art Center also has a nearly-complete collection of his prints.
. . . . . . . . . . . . . . . . . . . . .
Archives related to: Long Point Gallery
Title: Long Point Gallery records, 1977-1998.
Repository: Archives of American Art
description: Licenses; papers of incorporation; expense and sales records; price lists; correspondence; biographies of members; bibliography; gallery history; clippings; photographs of artists, gallery installations and social occasions; guest books; artists files; exhibition files; clippings and photographs on the participation of Robert Motherwell and Judith Rothschild; slides of works of art; and a videotape of a dinner held on August 10, 1993, taped by Renate Ponsold Motherwell.
Extent: 8.3 linear ft.
Formats: Financial Records Correspondence Clippings Photographs Electronic Resource
Access: Unmicrofilmed: use requires an appointment and is limited to AAA's Washington, D.C. storage facility.
Record source: http://www.siris.si.edu/
Acquisition information: Donated 1999 by Rosalind Pace, the last director of the gallery.

http://research.frick.org/
updated 05/22/2012 16:47:01
Photo: Robert Motherwell at work in his studio, 1952. Kay Bell Reynal, photographer. Archives of American Art.
. . . . . .

July 18, 1991 Robert Motherwell, Master of Abstract, Dies
. . . . . .

October 3, 2013 A Painter's Cut-and-Paste Prequel 'Robert Motherwell: Early Collages,' at the Guggenheim
. . . . . .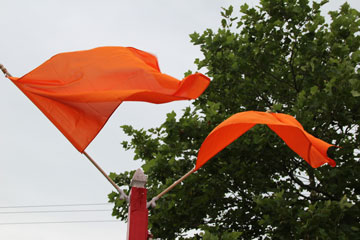 Gallery Ehva celebrates Robert Motherwell in Provincetown with orange flags!
. . . . .

Robert Motherwell:
Beside the Sea
On view: July 20-September 30, 2012
Two openings: Friday, July 20, 6-8pm by invitation only and 8-10pm for general public
Robert Motherwell: Beside the Sea, curated by Lise Motherwell and Dan Ranalli, will present rare work created by the artist in his Provincetown studio during the summer of 1962 until his death in 1991.
2012 is a milestone year as it marks the 70th anniversary of the artist's first visit to Provincetown, Massachusetts and the 50th anniversary of the creation of his Beside the Sea series, based on his experiences living in the small outer Cape Cod town. This is the first major exhibition of Motherwell's work on Cape Cod and provides a never before-seen look at many pieces held in private collections.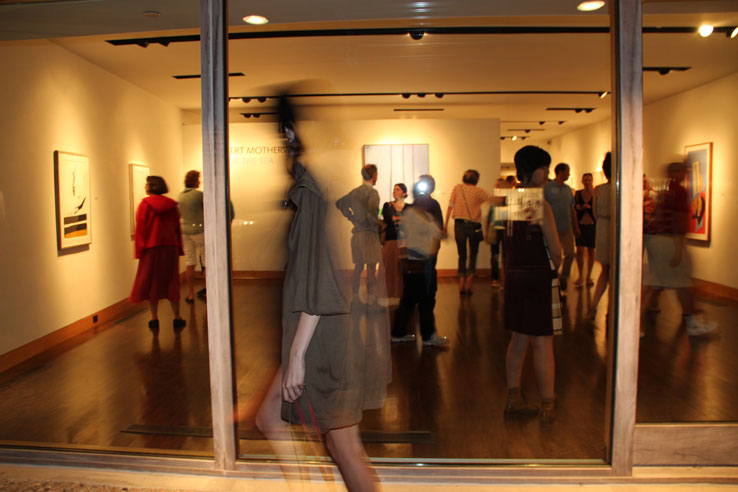 Provincetown Art Association, July 20, 2012