Lillian Orlowsky
painter, teacher, curator, critic and mentor
(Born 1914 in New York City, died August 7, 2007 in Provincetown)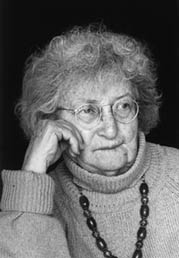 Lillian Orlowsky, portrait by Norma Holt, "On Equal Ground" Photographs from an Artists' Community at the Tip of Cape Cod. To order, contact Provincetown Art Association and Museum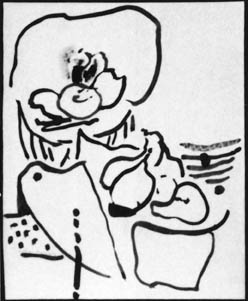 March, 1995

I was fortunate to have taken part in one of the most important periods of art in this century. The 1930's through the 1950's saw a cultural upheaval where diverse concepts in painting went from one extreme to another: from realism to abstraction. In the forefront were the WPA (Works Projects Administration - Art Project) and in some measure the Provincetown Art Association. They promoted cultural awareness of the different pictorial concepts which were the beginning of the changing scene of plastic expression.

The WPA was a great innovative idea that gave me and other artists the opportunity to concentrate on our work. It was unique in the history of American art and responsible for many murals and easel paintings which became government property. The artists received a weekly salary plus artist's materials. We would gather to pick up our checks at 110 King Street in Manhattan. Since there was always a long wait, we had time to talk about the current art scene. It was there that I learned of Hofmann.

The Hofmann School and the influx of European artists opened my sensibility to new horizons. These associations changed my visual perception. I no longer saw painting as an imitation of nature, but, instead, as an attempt to interpret nature on the picture plane.

I came to Provincetown to study with Hofmann. I found a most desirable north light studio at the Days Lumber Yard, now the Fine Arts Work Center. Primitive as it was, it was memorable because of the camaraderie and social and cultural exchange among the artists there. At the time, the group of artists consisted of Hans Hofmann, George McNeil, Fritz Bultman, William Freed, Perle Fine, Peter Busa, and Bruce McKain. In the early '50s, they were joined by Jan Muller, Myron Stout, Myrna Harrison, Earl Pierce and James Gahagan. The catwalk became our forum of exchange for ideas of pictorial reality and chit chat.

In the late fifties, my husband, the painter William Freed, and I moved from Days Lumber Yard and built our studios on Brewster Street. Provincetown and the Provincetown Art Association provided an umbrella for artists of all schools of thought. The town and PAAM continue to encourage and accept controversial aesthetic ideas.

The future for me means new challenges, new experiences, and new creative possibilities. George McNeil had it right: "...the first eighty years are the hardest, so now I hope for the best: freedom leading to more freedom."

--Lillian Orlowsky
Provincetown
[from catalog published by Provincetown Art Association and Museum, 1995]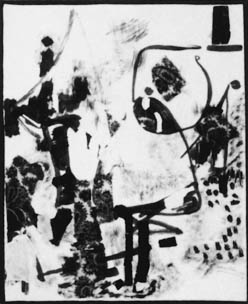 "Born October 14, 1914 in Manhattan, the painter Lillian Orlowsky approaches her 90th birthday with the engaged, curious spirit that propelled her to color outside the lines. She and the painter William Freed were inseparable from their first meeting in 1932 until his death 1984. She began her close connection with Hans Hofmann as his student in 1937 and became part of Hofmann's inner circle in New York and Provincetown, a link that continues almost 40 years after Hofmann's death. Then there is her own journey as an artist, with the percolating interest in her work that began a decade ago when Orlowsky was in her late 70s.
Her painting was included in the 1939 Worlds Fair in New York. Over the next 20 years she participated in a dozen group shows. Beginning in the late '70s her work was increasingly linked to major artistic movements in New York and Provincetown: the WPA, the cooperative galleries of the '50s, the avant-garde of the Lower East Side, the Days Lumberyard Studios, and of course Hofmann. In 1979 the Metropolitan Museum in New York organized "Hans Hofmann and His Students," which included Orlowsky."
Read more "I Would Like to Meet Lillian Orlowsky" a conversation with Lillian Orlowsky by Susan Rand Brown in Provincetown Arts magazine 2004 issue.