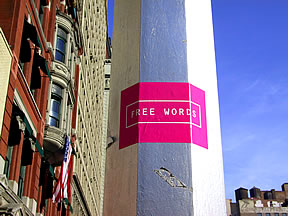 FOR IMMEDIATE RELEASE

Free Words offered to New York City

New York, Nov 25, 2001

In an alternative to the holiday shopping season, FREE WORDS is being offered this fall to the citizens of New York.

FREE WORDS is a book which belongs to whoever finds it. 2000 copies have been produced by artist Sal Randolph and are being distributed free in New York and beyond. The books are placed on the shelves of bookstores and libraries creating an art situation that permeates the public and commercial space of the city.

"The book is simply placed on the shelf," says Randolph. "It is clearly labeled as free. What someone does when they come across it is up to them."

Over 200 New York area booksellers and libraries have been targeted as Free Words sites, and a quarter of those have already received books. "I've been distributing books for a month now, and I intend to keep doing it for a year," says Randolph. In 2002 the project will expand to Boston, Washington DC, and beyond. FREE WORDS is also available on the web, in text and pdf formats, at www.freewords.org.

The text of FREE WORDS is a list of 13,000 words which has been placed by the artist in the public domain. "No Rights are Reserved," declares the copyright page. Randolph has been accumulating this list of words for the past ten years and is now making it available to anyone for any use whatsoever.

Poet and art critic Eileen Myles has said, "Sal's project converges at the root of money and postmodern art and avant garde friendship," and the Boston Globe reported, "Randolph deliberately sets out not so much to challenge the viewers ideas about art, but her own... when put together, all this anti-art turns into provocative art."

Randolph is a graduate of Harvard University, and a resident of New York. She is a poet and DJ as well as a visual artist and has received a Massachusetts Fellowship in poetry.

Free Words Sites as of 11/20/01
Manhattan
Ad Hoc 136 Wooster St.
Alabaster Bookshop 122 Fourth Ave.
Barnes & Noble Bookstore 675 Sixth Ave.
Barnes & Noble Bookstore 4 Astor Place
Barnes & Noble Bookstore 33 E. 17th St.
Barnes & Noble Bookstore 600 5th Ave.
Biography Book Shop 400 Bleecker St.
C.I.T.E. 100 Wooster St.
Columbia University Bookstore 2922 Broadway
Dia Center for the Arts Bookstore 584 W. 22nd St.
East Village Books and Records 101 St. Mark's Place 477-8647 7
Fine Art In Print 159 Prince St.
Guggenheim Museum Bookstore 1071 Fifth Ave
Guggenheim Museum Soho Bookstore 575 Broadway
Housing Works Used Book Cafe 126 Crosby St.
Hunter College Bookstore 695 Park Ave
Kim's Mediapolis 2906 Broadway
Labyrinth Books 536 W. 112th
Madison Avenue Bookshop 833 Madison Ave
Metropolitan Museum of Art Bookshop 1000 Fifth Ave
Museum of Modern Art Bookstore 11 W. 53rd St.
Museum of Modern Art Design Store Soho 81 Spring St.
New Museum of Contemporary Art Bookshop 583 Broadway
New York Public Library - Jefferson Market - 425 6th Ave.
New York Public Library - Donnell Center - 20 W. 53rd St.
New York University Book Center—Main Branch 18 Washington Place
Open Center Bookstore 83 Spring St.
Other Music 15 E. 4th St
Papyrus Booksellers 2915 Broadway
Perimeter Books 21 Cleveland Place
Poet's House Reading Room 72 Spring St.
Printed Matter 535 W. 22nd St
Saint Mark's Bookshop 31 3rd Ave,
Shakespeare & Co. 716 Broadway
Strand Bookstore 828 Broadway 473-1452 6
Three Lives and Co. 154 W. 10th St. 741-2069 5
Ursus Books 123 W. 21st. St.
Virgin Megastore 52 E. 14th St
Virgin Megastore Book 1540 Broadway
Whitney Museum Bookstore 945 Madison Ave.
Brooklyn
Barnes & Nobel, Court St
Bookcourt 163 Court St.
Clovis Press Bookshop Bedford St.
Heights Books, 109 Montague St.
Read Cafe, Bedford St.
Spoonbill & Sugartown, 218 Bedford St.
Waldenbooks, 129 Montague St.

----------------------

Highlala http://www.highlala.com