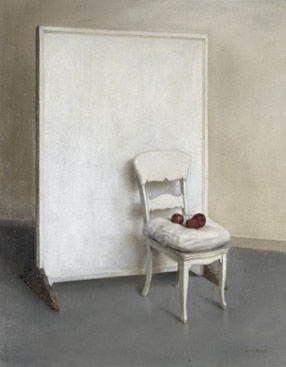 At the heyday of Abstract Expressionism, Alvin Ross was an anomaly; his precise, finely-wrought still life paintings, done on a small scale, were the antithesis of the large, impetuously brushed evocations of the Expressionist vein rampaging around him.

Ross was a thoughtful artist, an historian as well as a student of art. His frequent trips abroad confirmed his sense of the past, and his use of realism in a period dominated by abstraction in art.

Apples On A Chair is vintage Ross: In the monochromatic white setting of the ripe-red fruit on the chair, the apples become unlikely protagonists (note how the left-hand apple confronts the pair adjacent to it) in a kitchen drama that assumes an unexpected poignancy. Ross died at the height of his powers, and as one of the few artists elected president of the Provincetown Art Association.
------------------------------------

The Collection of the Provincetown Art Association and Museum, March 3-13, 2000, The National Arts Club, New York, NY; Curatorial Notes: Tony Vevers