Emily Rossmoore
1956-1995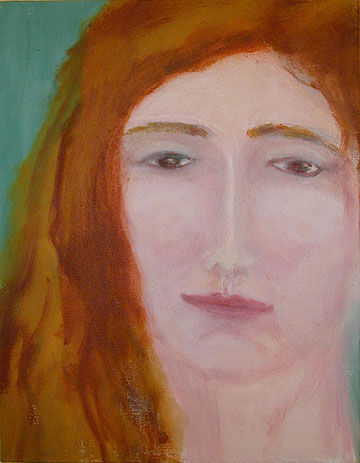 Self Portrait, c. 1980s
oil on canvas, 18.5 x 14''
Collection of Barbara Rushmore
....................................
Cape Cod Times
Emily Sara Rossmoore, 39
FALL RIVER -- Emily Sara Rossmoore, 39, a freelance artist who leaves family in Provincetown, died Sunday in Hope House, Fall River, of AIDS-related illness.
Born in Newark, N.J., Ms. Rossmoore was the daughter of William Rossmoore of Provincetown and Stamford, Conn., and Barbara Rushmore of Provincetown. She had lived in Fall River for the past five years. Before that, she had lived in Boston.
Besides her parents, survivors include her daughter, Jacqueline Stavis of Dobbs Ferry, N.Y.; her grandmother, Laura Miller of New York City; her stepmother, Rhoda Rossmoore of Stamford, Conn., and Provincetown; three sisters, Laura Yingling of Provincetown, Katherine Rossmoore-Shields of Marshfield and Susan Stone of Woodstock, N.Y.; a step-sister, Amy Germain of Madison, N.Y.; and three stepbrothers, Andrew Germain of Julian, Calif., David Germain of Sparta, N.J., and Neil Germain of Ruidoso, N.M.
Graveside services are at 12:30 p.m. tomorrow in Provincetown Cemetery.
Visiting hours are 2 to 4 and 7 to 9 p.m. today at the Hathaway Home for Funerals, 1813 Robeson St., Fall River.
Memorial donations may be made to the Provincetown AIDS Support Group, 96 Bradford St., Provincetown, MA 02657; or to SSTAR Project Aware, 386b Stanley St., Fall River, MA 02720.