Ben Shahn
(September 12, 1898 – March 14, 1969)
"What then was I to paint? Slowly I found that I must paint those things that were meaningful to me–that I could honestly paint in the shapes and colors I felt belonged to them. What shall I paint? Stories." -- Ben Shahn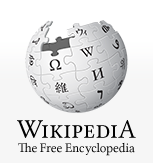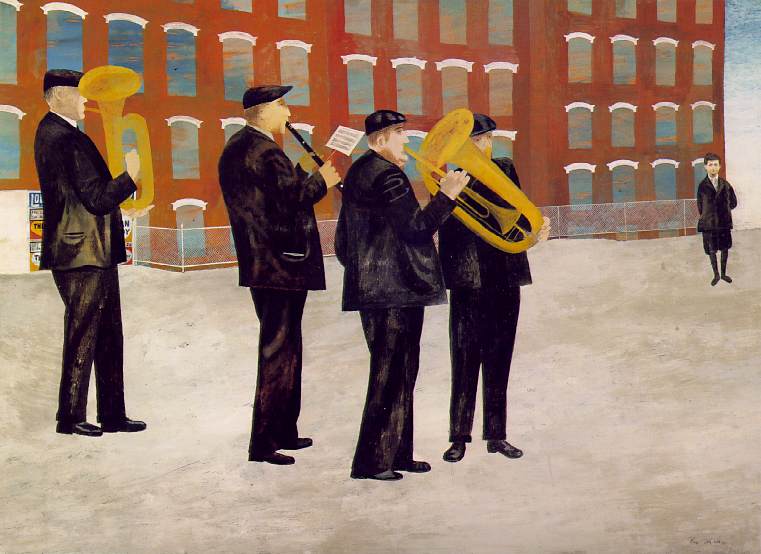 Portrait of myself as a young boy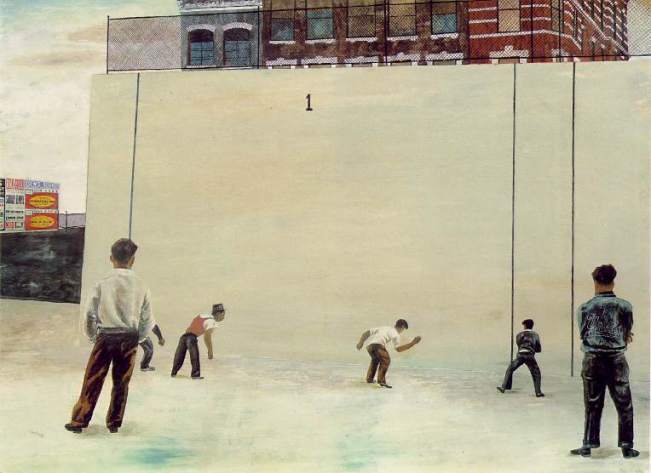 Handball

Shahn was born in Kovno (Kaunas), Lithuania, then occupied by the Russian Empire, to Jewish parents Joshua Hessel and Gittel (Lieberman) Shahn. His father was exiled to Siberia for possible revolutionary activities in 1902, at which point Shahn, his mother, and two younger siblings moved to Vilkomir (Ukmerg?). In 1906, the family immigrated to the United States where they rejoined Hessel, who had fled Siberia. They settled in the Williamsburg section of Brooklyn, New York where two more siblings were born. His younger brother drowned at age 17.[1] Shahn began his path to becoming an artist in New York, where he was first trained as a lithographer. Shahn's early experiences with lithography and graphic design is apparent in his later prints and paintings which often include the combination of text and image. Shahn's primary medium was egg tempera, popular among social realists. (Wikipedia)
Both images from http://raggedclothcafe.com/2007/08/29/ben-shahn-by-terry-grant/
. . . . . . . .
Watch!
Ben Shahn: Passion for Justice from PCK Media on Vimeo.
This PBS documentary tells the story if the socially engaged, iconic American 20th Century artist Ben Shahn. Interviews include the artist's now deceased wife Bernarda Bryson Shahn, his biographer and friend Howard Greenfeld, and his son, the artist Jonathan Shahn.

Susan Wallner produced, directed, wrote and edited this award-winning one hour documentary for NJN Public Television and PBS in 2002. It was shot in 16 mm film, and features original music by John Hodian.