Judith Shahn
1929-Dec. 8, 2009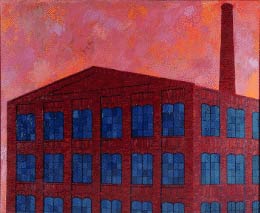 Judith Shahn painter, printmaker and graphic artist. Her drawings have appeared regularly in the New Yorker Magazine, Madamoiselle, Gourmet, Readers Digest and the Boston Globe. Long involved in FAWC, Provincetown.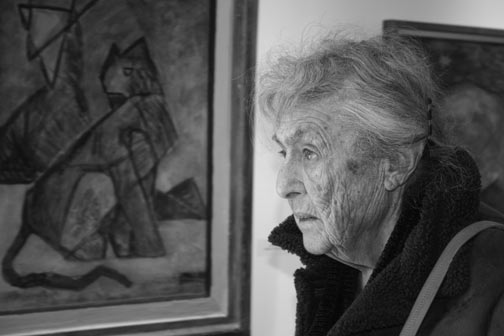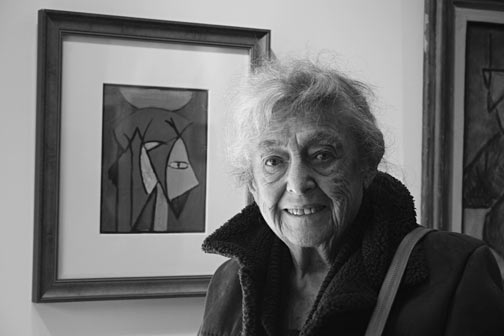 Judith Shahn at the Provincetown Art Association and Museum, 2005. Photograpsh by Ewa Nogiec.
. . . . . . . . . .
Provincetown Banner, Dec. 17, 2009
TRURO Well-known artist Judith Shahn, 80, of Truro, died last Tuesday, Dec. 8, at Seashore Point in Provincetown. She was the wife of the late Pulitzer Prize winning poet Alan Dugan.
She was born in Paris, France, in 1929, the daughter of the late artist Ben Shahn and Tillie (Goldstein) Shahn. Her formative years were spent in New York where she attended the High School of Music & Art.
She went on to study at Olivett College in Michigan, graduating from Mexico City College with a BA in 1950. She expanded her knowledge of art through graduate work at the Institute of Fine Arts at New York University. She met her husband, Alan Dugan, in the late 1940s and they married in 1956 in Harwich Port. During the '50s they started a business making greeting cards. In the late 1960s they moved to Truro on a full-time basis, living in the house her parents bought in the '20s, and spent weekends in New York.
For several decades The New Yorker magazine published more than 1,000 small pen-and-ink drawings that Judith drew, depicting familiar Cape-related images such as a chair, window, basket or utensil.
During the past 10 years the Fine Arts Work Center in Provincetown has hosted a retrospective of her paintings of Cape scenes done in mixed media such as oil and casein. These works, done in color, consisted of many of the images that appeared in The New Yorker. In 2001 her work was featured in three Provincetown exhibitions throughout the summer, at FAWC, Robin Watson Gallery and Cove Gallery. Judith, a noted printmaker, painter and graphic artist, was a longstanding Work Center trustee, and her husband was one of its founders.
Describing her as "an accomplished artist," Margaret Murphy, FAWC's executive director, noted that Judith stayed engaged in the Work Center at multiple levels. She "was devoted to the Work Center since the very earliest days, starting in 1969, just one year into the adventure. … Millions of readers of The New Yorker and generations of FAWC fellows, trustees and visual arts committees will remember her contributions with affection and gratitude."
In her work, said Chris McCarthy, director of the Provincetown Art Association and Museum, "She concentrated on the light of Cape Cod and her surroundings, whether it be a boat or wild asters; PAAM is fortunate to have four of her works in the permanent collection." McCarthy added that Judith "was devoted to Truro and Provincetown and produced thousands of works of art in her Truro studio. Her support of the arts in Provincetown was exemplary — she will be missed."
Judith loved flowers and her favorite color was blue. This was reflected in her home, her clothing and her paintings. In the mid-1980s the health of her husband began to decline and she spent much of her time caring for him until his death in 2003.
She is survived by her loving family and her many friends.
A burial will take place at 11:30 a.m. on Saturday, Dec. 19, at Old North Cemetery Truro, followed by a potluck luncheon to honor Judith and celebrate her life, at noon at the Fine Arts Work Center, 24 Pearl St., Provincetown.
If desired, memorial contributions in her honor may be made to the Alan Dugan-Judith Shahn Fellowship, c/o the Fine Arts Work Center, 24 Pearl St., Provincetown, MA 02657.

Copyright 2009 Wicked Local Provincetown. Some rights reserved.
Represened by Cove Gallery, 482 Commercial Street, Wellfleet, MA 02667
www.covegallery.com