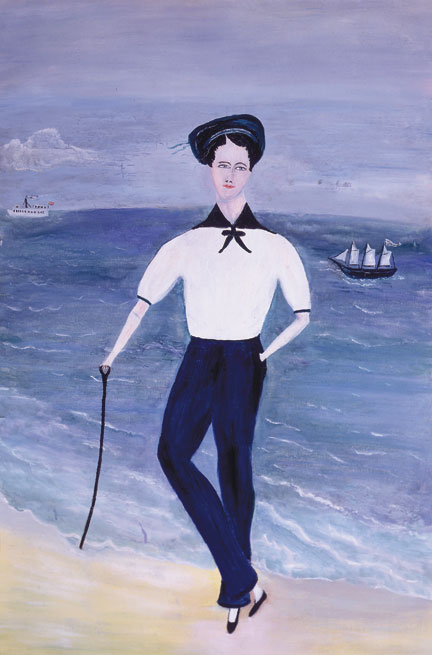 Hyman Shrand was born in Cape Town, South Africa, December 11, 1921. He knew from an early age that he wanted to be a physician. He went on to study medicine at the University of Cape Town, and practiced for a while in South Africa as a family doctor. He then went on to specialize in Pediatrics. He served in the South African army during World War II.
His practice led him to England and then he was invited to America by Tufts University to do home care for children. In 1968, he was appointed Chief of Pediatrics at Mt. Auburn Hospital in Cambridge, Massachusetts, and served there for fifteen years. In 1970, he became a Sunday painter while living in Newton, MA.
Upon his retirement in 1986, he and his wife, Hannah moved to Cape Cod and that is when he started painting full time. He was a very prolific painter, rising each morning at 4 a.m. to go to his studio, and by 7 a.m. he would produce a painting to be enjoyed and admired while having coffee with his wife. Hyman Shrand had a marvellous sense of humor and a wonderful imagination, both of which he brought to his art.
Although self-taught, he collected and studied fine art books on his won, and he mastered the art of color from his studies. He ventured upon his art as he did his Pediatrics with an academic approach.
He was soon carried by different galleries in Wellfleet and Provincetown and collected my many. He was a member of the Visual Artists Cooperative. He was with the Berta Walker Gallery at the time of his death and continues to be shown there.
Hyman Shrand loved to read and write short stories. He was a founding member of the Wellfleet Writer's Group and his favorite day of the week was Tuesday morning when they would meet and listen to each other's stories. One morning, while reading one of his stories to the group, a newcomer stopped him in the middle of his recitation and asked what comments he hoped to elicit. Without a moment's hesitation, he replied, "Sheer adoration, madam, sheer adoration."
He was a man of many talents, a loving family man, dedicated physician, poet, painter, humorist, and lover of music and art. He is deeply missed.
—Hannah Shrand