Peter Shulman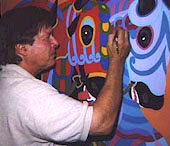 I first came to Provincetown in 1964 when my New York gallery sent my work to Walter Chrysler. I lived in Provincetown year round from 1982 until 1992.

The best of my over 2000 works on canvas were conceived and painted in Provincetown.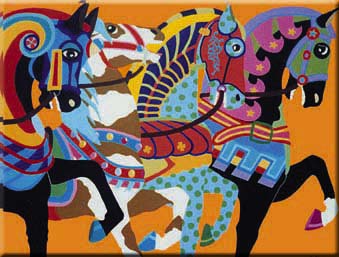 Peter Shulman began his career as a painter in the mid 1960's with no formal training. Within three months after completion of his first piece, his Pop Art "Fried Egg" paintings were featured at the prestigious Bianchini Gallery in New York City next to the work of Pop Art icons Andy Warhol and Roy Lichtenstein. Peter has never looked back. In the years since he began painting, his work has been in more than one hundred solo and four hundred group exhibits. He is a disciplined painter and a constant worker who puts brush to canvas 365 days a year.
Shulman's self-taught and striking hard-edged style is immediately identifiable. More than 2,000 of his acrylic, oil or enamel paintings on canvas have been sold and are featured in museums, universities and corporate offices, as well as in prized private collections around the world.
web site: Peter Shulman Gallery